CREDAI Ngp Metro holds workshop on Revised UDCPR & Online Building Plan Mgmt System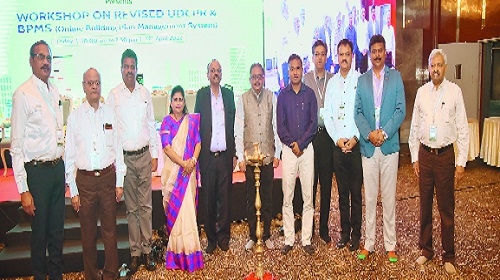 Business Bureau
A HALF day workshop on Revised UDCPR along with Online Building Plan Management System was organised by CREDAI Nagpur Metro. The workshop was inaugurated by chief guest Municipal Commissioner Radhakrishnan B in the presence of auspicious guest Director Town Planning N R Shende, Director Town Planning Avinash Patil
and Director Town Planning, Chief Planner MIDC Pratibha Bhadane.
Also present were dignitaries of CREDAI Nagpur Metro President Vijay Dargan, General Secretary Gaurav Agarwala, Treasurer Rajmohan Sahu, Convener and Joint Secretary Vijay Joshi, Santdas Chawla, Sunil Duddalwar and Prashant Sarode.
Government of Maharashtra has published Development Control Rules on December 3, 2020, for all municipal corporations, councils and nagar panchayats in the entire State except Mumbai and some neighbouring areas.
As the people started using the UDCPR, few difficulties and lacunas became evident and to clear these interpretation difficulties. This workshop was organised for the builders, architects, engineers, planning authorities.
Keynote speakers N R Shende and Avinash Patil had spoken on the subject. Pratibha Bhadane gave the presentation on role of planners in MIDC.
Municipal Commissioner Radhakrishna B made it clear that to make this UDCPR applicable effectively the sanctioning authorities and the stakeholders of the industry should work jointly and within the rules framed.