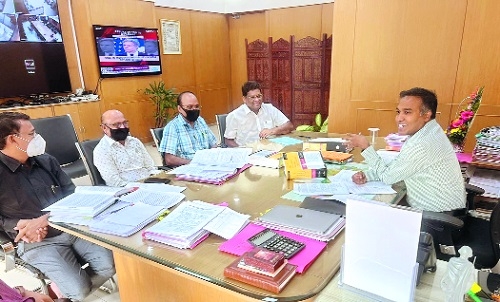 Business Bureau
Clouds of uncertainty loom large over thousands of occupants of civic body properties spread all over the city as there are no clear and logical policies to deal with them. There is a huge disparity in the rent of the properties affecting businesses of the occupants and revenue collection of the civic body as well. Besides, a large number of occupants have been struggling to transfer the properties for the past many years. In addition, many traders and businessmen occupying the civic body-own shops and commercial complexes are also facing hardships as the civic authorities are demanding rent at par with the market rates.
The Nagpur Municipal Corporation (NMC) has allotted more than 10,000 properties, residential and commercial both, to occupants under various categories including - tenants, lease holders and license holders. In some cases, the allotment was done 50-60 years back when conditions were altogether different.
It is important to note that similar categories of occupants in other civic bodies in the State are also sailing in the same boat and thus the Chamber of Associations of Maharashtra Industry and Trade (CAMIT) led by President Dipen Agrawal has been raising the issue at all levels.
CAMIT had met a host of dignitaries and urged them to intervene and resolve the issue in the best interest of all
stakeholders. Agrawal has recently took up the matter with the Nagpur Municipal Commissioner Radhakrishnan B.
President of NMC Market Federation - Wahab Parekh said the traders are demanding a long term and permanent solution. "No one is against the hike in rent but it should be logical. Moreover, the municipal body should take all the stakeholders into confidence while deciding the policy," he said.
"The recent rules introduced a new procedural condition which was not prevalent at the time when the properties were leased out or given on license. These new conditions are adversely affecting the livelihood of traders and their family and the same is against the principles of justice and equity," he observed.
Sanjay Nabira, Secretary - NMC Market Federation, said that majority of local bodies in the State collected the lease rent/license fee as per the agreement entered by them with the federation / tenants and the tenancy / lease was deemed to be renewed without there being any requirement for written communication expressing the desire of the tenant to renew the tenancy / lease, that is to say tenancy by holding over. "This practice has attained the status of custom and hence the retrospective change in this regard was protested as being against the set principles of law and custom," he added. In the meantime, Deputy Commissioner - NMC Ravindra Bhelave said, the civic body is following the set guidelines by the State Government.