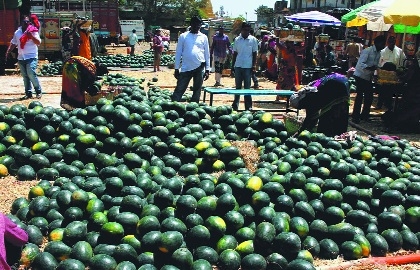 Business Bureau :
Even as the mercury level is flying high and making it difficult for the people to adapt to rising temperatures, the demand for watermelon and other varieties of fruits is not picking up to a satisfactory level. These varieties of fruits normally enjoy overwhelming demand in peak summer and so are its prices. But a cursory look at the markets here in the city on Saturday reflected a contradictory scene. Watermelons were sold at a price of Rs 6-9 per kg while muskmelon was sold at a price of Rs 10-15 per kg in the wholesale market. Mango prices were between Rs 50 and Rs 100 per kg on Saturday. One of the fruits wholesalers - Jiwan Dharkar told The Hitavada that the prices were nearly 50 per cent less than that of expected prices.
"This is a peak season for these varieties of fruits and it should get good returns. But it's not happening," he said. Dharkar said that the markets are witnessing 'below normal' demand for fruits. "We were expecting heavy demand for these fruits on two grounds. The first reason is the scorching heat which people are braving. And the second reason is the ongoing holy month of Ramzan when fruits are in heavy demand." Dharkar further said that retailers are very cautiously buying the fruits. "All the retailers and wholesalers were expecting it to be a good season and every one was planning to earn good money during this period," he added.
Another dealer Ram Mahajan said there is no buzz in the markets. "There is no satisfactory number of takers for these varieties. It seems that a significant number of people are on the back foot which is ultimately affecting the prices," he felt. A huge number of vehicles laden with watermelon, muskmelon and mangoes are arriving in the city every day from places like Vijayawada, Nanded, Pusad and Chhindwara. But it's buyers seem to be not showing much interest in it.