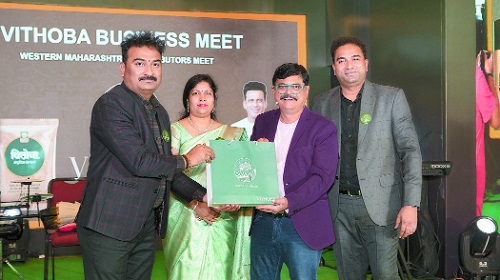 Business Bureau
Manufacturer of renowned oral brand Vithoba Ayurvedic Dant Manjan and Vithoba Ayurvedic Toothpaste - Vithoba Healthcare conducted distributors meet in Pune on Monday.
The meet held at Sheraton Grand - Pune Bund Garden Hotel in Pune also witnessed launching of new scheme called Vithoba Swarna Yojana.
All the distributor of the company based in Western Maharashtra participated in the event. There were various schemes for the distributors. The main attraction of the event was the presence of the famous Marathi actor Bharat Ganeshpure who entertained the participants. Apart form this, Puneet Kushwaha and his team added spice to the mega event. Rhythm Squad Dance Group members also performed on the occasion.
Bhavesh Bhatia who is a visually disabled entrepreneur and founder of Sunrise Candles guided the participants. He said that his initiative is offering employment to more than 4000 blind people.
"Life is full of challenges and one should face it with courage. it is only you who can decide your fate," he added.
Expressing his views, Sudarshan Shende, Director of the company, said the company is working for the dental hygiene of people and company is following the principles of ayurveda.
Kartik Shende, Director of the company, spoke about various products of the Vithoba Healthcare. Manish Shende, Director of the company and others were also present. R J Bandya conducted the proceedings of the event, says a press release.