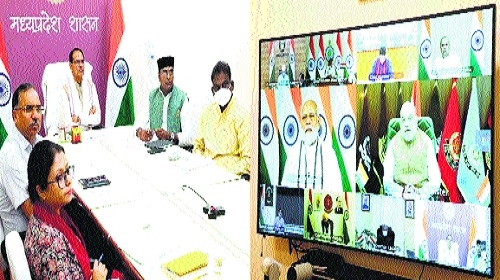 Staff Reporter
In a meeting of Chief Ministers of the States held on the current situation of COVID-19 in the country under the chairmanship of Prime Minister Narendra Modi, Chief Minister Shivraj Singh Chouhan took part virtually. Medical Education Minister Vishwas Sarang, Public Health and Family Welfare Minister Dr Prabhuram Choudhary, Additional Chief Secretary (Health) Mohammad Suleman were also present at the Chief Minister's residence.
Prime Minister Modi said that vigilance is must in view of the increased cases of corona in the last two weeks. The Centre and the States have dealt with the previous waves of corona through mutual dialogue and co-ordination. It must be kept mind that the challenge of corona is not over yet. Prime Minister Modi called for expediting the work of vaccination of children and adults, motivating the general public to be aware and alert and adopting corona appropriate behaviour in public places.
Prime Minister Modi said that the works going on to strengthen health infrastructure should be completed on priority. All states should remain alert and proactive to maintain the health facilities in functional condition. Prime Minister, Narendra Modi sought information from the Chief Ministers of Delhi, Uttar Pradesh, Mizoram, Karnataka, Haryana about the situation of corona in their states and the precautions being taken and the efforts being made for infrastructure.