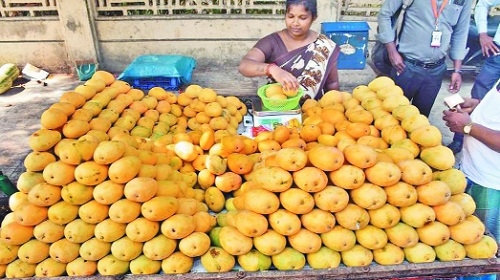 Business Bureau
One of the most sought after mango varieties-- Baiganpalli -- this season has become costlier in the wholesale market. The reason is attibuted mainly to the scarce supply from mango growing areas. The prices of Baiganpalli have escalated by Rs 30 per kg to Rs 35 per kg within a fortnight. "The mango production has dipped by 30 per cent to 35 per cent due to unfavourable climate conditions this season. This has resulted into price rise of Baiganpalli," said Anand Dongre, President of Nagpur Fruit Dealers Association while speaking to The Hitavada on Wednesday.
In last December there was unexpected rainfall which has destroyed the agriculture produce to a larger extent, he said.
In the wholesale market, Baiganpalli variety (loose) is being quoted at Rs 80 per kg to Rs 155 per kg, compared to 15 days ago at Rs 80 per kg to Rs 120 per kg. Last year the prices started from Rs 40 per kg to Rs 50 per kg.
In retail, the Baiganpalli is being quoted at Rs 150 per kg to Rs 200 per kg depending on the quality, he said.
The famous Baiganpalli mango variety is coming from Kurnool, Warangal and other districts of Andhra Pradesh. A daily average 4,000 crates of 20 kg each are unloaded at the wholesale market. On an average 50 to 60 trucks are unloading the mango on Monday, Tuesday, Thursday and Saturday at the Kalamna wholesale market, he said.
Similarly, the famous Alphanso popularly known as the Hapus mango variety which comes from Ratnagiri and Mumbai is being quoted at Rs 800 to Rs 1,000 per dozen depending on the quality, he pointed out.
The local mango varieties like the Dassahari, Shakkar Gutli, Langada, Kesar are expected to start from next month. The local varieties come from Bhiwapur, Umrer, Kuhi, Mandal and other near by areas. It is anticipated that the prices of mangoes would cool down with the arrival of other local mango varieties in the market, he said.
Also the arrivals of other mango varieties are late by one month, he pointed out.
Although, this is the peak season for mangoes and other fruit varieties the demand is slow due to the inflationary pressure. It seems that people are not happy with the price rise of fruits and other essential commodities as it is inflating their monthly budget.