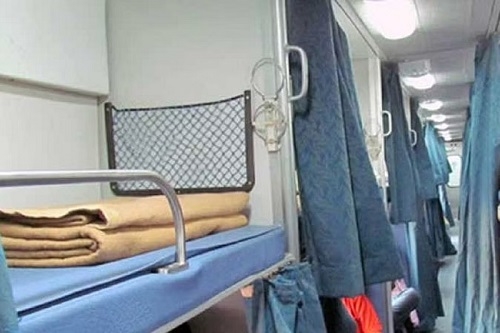 By Sagar Mohod
Battling shortage of bedrolls, Railway Board has directed zonal units to procure required material from the open market. In the process, the Board also diluted a clause that would now allow purchases of the linen directly from the open market as used to be done previously.
Earlier, as per stipulation of Government of India, Railways was directed to get 100 per cent orders with Khadi and Village Industries Commission (KVIC) under Make in India Policy.
Railways sought permission to by-pass the norm as it were facing difficulties in getting required quantity through nominated route. Now, post-lifting of Covid-19 restrictions, the temperatures in air-conditioned coaches was restored to normal times and hence requirement for bedrolls was must. With peak summer also on, the air-conditioned coaches are more preferred by the travellers.
However, with bedrolls not in demand, the supply chain to Railways also shifted to other materials. All of a sudden with decision to restart bed rolls, divisions were caught in bind as no advance planning could be done due to lack of clarity. At Central Railway's Nagpur Division, eight trains are nominated for primary maintenance on which bedrolls are needed to be supplied. Presently, only one train — 12140 Nagpur-Chhatrapati Shivaji Maharaj Terminus Mumbai Sewagram Express and in rest seven trains it would be done in time to come, told Divisional Spokesperson,
Divisional Commercial Manager (DCM) V C Thool to 'The Hitavada'.
The field units were in dilemma as more than 50 per cent of their stock was left unused due to deterioration in its quality. Since last two years, the Board had stopped supply of bedrolls in view of concerns over Covid-19. Along side, the temperatures in air-conditioned coaches was raised to dispense with use of blankets and bed sheets. Though charges of bedrolls were included in ticket fare, Railways was short changing the travellers as for two years when the facility was withdrawn. This was clear cut violation of the Board's own norms wherein it is stated that providing bed roll is compulsory for travellers.
At local level, divisional spokesperson for Central Railway, DCM said that they will go by directives from Zonal Headquarters on the front of bedrolls procurement.
As per the Board's instructions, the said relaxation is for a period of one year, but with stipulation that 20 per cent supplies must be sourced form handloom.
Provision of GFR Rule 153 (I) stipulates that Central Government has reserved all items of hand spun and hand woven textiles (Khadi goods) exclusively for purchases from KVIC, Handloom Clusters, Co-operative Societies, Self-help Groups (SHGs), Joint Liability Group (JLG), Producer Companies (PC), Corporations etc., including weavers having Pehchan Cards. Mechanical laundry to be ready by month end Meanwhile, the much-awaited commissioning of mechanical laundry at Ajni Railway Colony is drawing near and officials aid by april end it would get streamlined.
DCM V C Thool said, the laundry is on Build-Own Operate Transfer (BooT) basis and has capacity of cleaning 8 tonnes of linen daily. Once the laundry starts functioning, Nagpur Division expects to normalise supply of bedrolls in all the nominated trains under its jurisdiction.
Also, complaints of lack of cleanliness would get reduced with start of mechanical laundry.
The mechanical laundry is running behind schedule as midway the design was changed resulted in delay. By the time the work was nearing completion, Covid-19 pandemic hit the world. For last two years, there was no requirement of linen. Now, that Railway Board has decided to resume the supply, the mechanical laundry is being oiled and readied for commissioning.