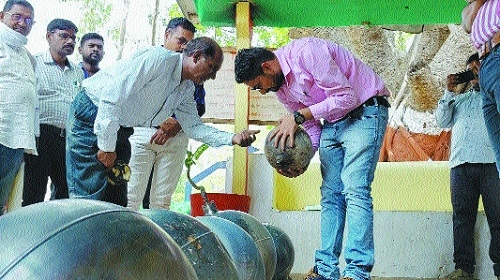 Chandrapur Bureau
TWO officials of the Indian Space Research Organisation (ISRO), Thirvanantapuram, on Friday, visited Sindewahi Police Station to inspect the objects that had fallen from the sky at Pawanpar village and other parts of Sindewahi and Brahmapuri tehsils recently. Parts of SLV including a metal ring and six cylinders were found at different places in Sindewahi and Brahmapuri.
Two cylinders were found in Pawanpar and Maregaon villages on April 3 while two more cylinders found at Gunjawahi (Kotha)and Asolamendha pond
areas on April 4. The cylinders weighed around 6.839 kgs and bore the same number (3CCA301001 B) on them, informed sources. Meanwhile, two more cylinder (6.839kgs) and (2.865kgs) were later found at Bodra and Shelda in Brahmapuri tehsil. District Collector Ajay Gulhane had sent a detailed report to ISRO about detection of metal ring and cylinders at Brahmapuri and Sindewahi tehsils. Following that senior ISRO scientists visited Latbori village in Sindewahi and police station, informed Gulhane. The two senior ISRO scientists Mayuresh Shette and Shah Jaha will take the SLV material found in the area in a container to ISRO for further investigation, informed Gulhane while talking to 'The Hitavada'.
Suresh Chopane, member (MoEF&CC), Tehsildar Ganesh Jagdale, Assistant Inspector of Police (Sindewahi) Thakre and others helped the scientists on the occasion.