Individual who realises peace within can be its true propagator: Prof. Dr Awasthi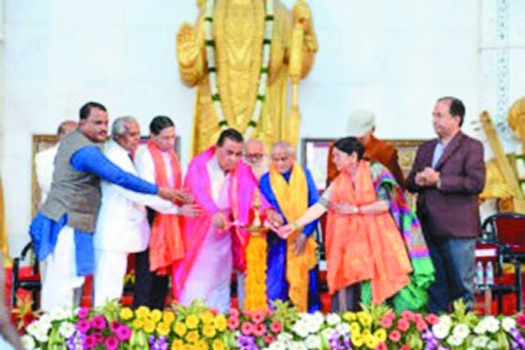 Business Bureau :
A very different approach to world peace can be seen in the "World Peace Dome" in India. This monumental peace centre was built through the great dedication and commitment of educator and peace advocate Prof. Vishwanath Karad, a devoted follower of Saint Dnyaneshwara. The World Peace Dome is dedicated to the public as a centre of wisdom, knowledge dissemination and social transformation. With its Sant Shri Dnyaneshwara World Peace Prayer Hall and the World Peace Library, it strives to educate the masses and help build a harmonious and peaceful society. The World Peace Dome practices the philosophy of Vasudhaiva Kutumba-kam -The World as One Family- A Global Village.
This largest peace dome in the world is located on the campus of Maharashtra Institute of Technology (MIT) in Pune and was inaugurated in October 2018.According to Prof Awasthi, this peace centre is a living pillar of the spirituality of science or as one can say, the science of spirituality. The following is taken from a prose she wrote about the World Peace Dome.Only that individual who realises peace within can be a true propagator of peace in the world. The forty years of dedicated service of Prof. Karad has shown that in a spiritual country like India scientific approach coupled with spiritual wisdom is necessary so that spirituality is freed from its narrow rituals and at the same time science gets the spirit of non-violence. Both the forces are going to help in achieving the goal of world-peace.