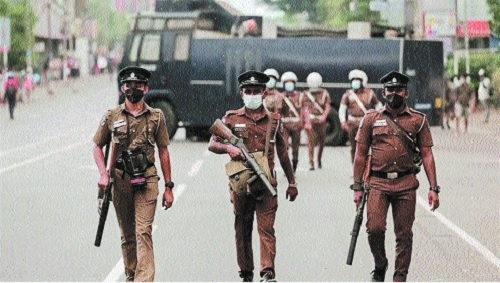 COLOMBO,
SRI LANKAN Prime Minister Mahinda Rajapaksa resigned on Monday amid unprecedented economic turmoil, hours after his supporters attacked anti-Government protesters outside President Gotabaya Rajapaksa's office, leaving at least 130 people injured and prompting authorities to impose a nation-wide curfew and deploy Army troops in the capital.
Prime Minister Mahinda, 76, sent his resignation letter to the President Gotabaya Rajapaksa after violent scenes were witnessed in Colombo.
"Effective immediately I have tendered my resignation as Prime Minister to the President," Mahinda tweeted.
At least two Cabinet Ministers have also announced their resignations.
The violence occurred as pressure mounted on the embattled Government led by his younger brother and President Gotabaya to form an interim administration to overcome the worst economic crisis facing the country.
Curfew was imposed island-wide with immediate effect until further notice, a police spokesperson was quoted as saying by the local media. A military contingent was deployed to the protest site to assist law enforcement after clashes between proGovernment and protesters at MynaGoGama and GotaGoGama protest sites left around 130 people injured. TheDefenceSecretaryhas urged public support to maintain peace in the country,whilethree-armedforces have been called in to assist police for public security. Leave for all police personnel were cancelled until further notice. Sri Lanka is currently in the throes of unprecedented economic turmoil since its Independence from Britain in 1948. The crisis is caused in part byalack of foreign currency, which has meant that the country cannot afford to pay forimports ofstaplefoodsandfuel,leading to acute shortages and very high prices. Thousandsofdemonstratorshavehitthestreetsacross Sri Lanka since April9seeking resignation of President GotabayaandPrimeMinister Mahinda,astheGovernment ran out of money for vital imports; prices of essential commodities have skyrocketed and there are acute shortages in fuel, medicines and electricity supply. Earlier, President GotabayaandPrimeMinister Mahindahadappealedtothe people to exercise restraint andrememberthat violence only begets violence, saying theeconomiccrisisneedsan economicsolutionwhichhis Governmentiscommittedto resolving. "Strongly condemn the violent acts taking placebythoseinciting&participating, irrespective of politicalallegiances.Violence won't solve thecurrentproblems.Irequest all citizens to remain calm & exercise restraint. I urge everyone to work togetherin solving this crisis," the President said in a tweet. The Prime Minister alsourgedthepeopletoexercise restraint.