Protests erupt as bulldozers roll into Delhi's Shaheen Bagh, return without action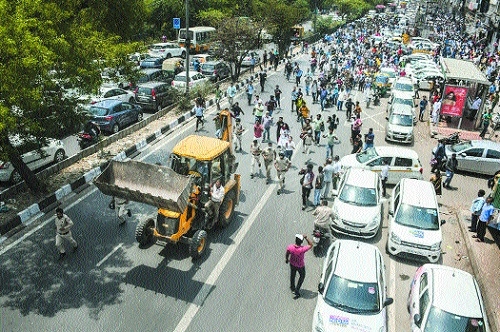 NEW DELHI,
PROTESTS erupted at Delhi's Shaheen Bagh on Monday with hundreds of people, including women, opposing an anti-encroachment drive of the SDMC as bulldozers rolled into the area in the presence of a huge number of police personnel, even as the civic body team was forced to return without carrying out the exercise.
Following the protests, the SDMC officials returned with the bulldozers, an official said.
The protesters raised slogans against the BJP-ruled South Delhi Municipal Corporation (SDMC) as well as the Centre
and demanded that the action be stopped. Some of the women protesters even stood in front of the bulldozers to prevent the exercise. Meanwhile, the Supreme Court refused to entertain a plea filed by the Communist Party of India (Marxist) against the demolition drive at Shaheen Bagh, saying it cannot interfere in the matter at the instance of a political party. A bench of justices L NageswaraRaoandBRGavai asked the Left party to approach the Delhi High Court instead. "Why is the CPI(M) filing a petition? What is the fundamental right that is being violated?Not at thebehestof political parties. This is not the platform. You go to the high court," the bench said. Earlier in the day, leaders oftheAamAadmiParty(AAP) andtheCongressreachedthe spot and staged a dharna. Theprotests causedtraffic snarls at Shaheen Bagh, Kalindi Kunj, Jaitpur, Sarita Vihar and Mathura Road, among other places.