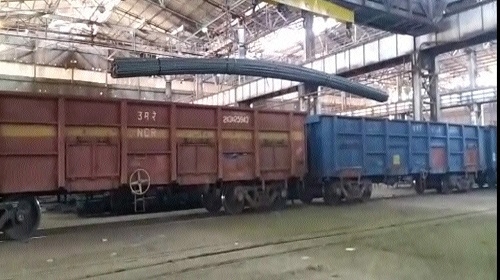 Staff Reporter
BHILAI,
SAIL-Bhilai Steel Plant that produces high strength TMT Bars with earthquake and corrosion resistant properties for use in big projects of national importance including dams, power plant projects, bridges, flyovers, expressway, tunnels etc has recently been supplying TMT Bars of required grade for use in the Ayodhya Ram Mandir construction
project and for use by Border Roads Organisation.
More than 610 tonnes of TMT bars in 500 D Grade of different dimensions have been supplied by SAIL-BSP to BRO for purpose of construction of roads, bridges etc to ensure connectivity in border areas in last fiscal year 2021-22.
The TMT Bars of 500 D Grade supplied to BRO have been produced in the Plant's modern Bar and Rod Mill. TMT Bars supplied to BRO include 350 Tonnes of 16 millimetre (mm) diameter, 120 T of 20 mm
diameter, 74 tonnes of 10 mm diameter and 69 tonnes of 12 mm diameter.
Around 190 tonnes of TMT Bars in 550D grade of different dimensions has so far been supplied by SAIL-BSP for the construction of upcoming Ram Mandir in Ayodhya.
It is worth mentioning that products from Bhilai's Modex unit, Bar and Rod Mill have reached various corners of the country. The superior product quality of products, with negative tolerance and consistent mechanical properties and good weldability produced as per IS-1786 norms, has been widely appreciated by customers of SAIL-Bhilai.
All TMT products from Bhilai Steel Plant, both from Bar and Rod Mill and Merchant Mill are now being bar-coded before despatch so that upon scanning the bar code, the customer gets to know detail information about the product. Besides dams, thermal, hydro-electric and nuclear power projects, bridges, highways, flyovers, tunnels and highrise buildings all over the country, TMT Bars from SAIL-Bhilai have been used is some landmark projects such as Bandra Worli Sea Link Bridge, Statue of Unity, Agra expressway on which fighter planes have landed and in several bridges and tunnels in North and North-East India.