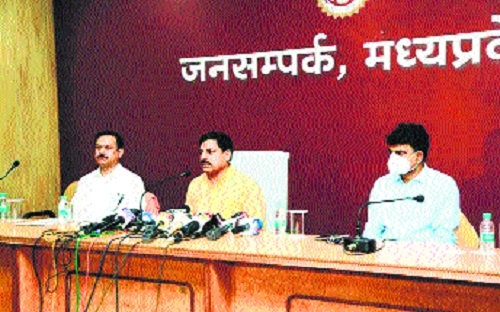 Staff Reporter
Higher Education Minister Dr Mohan Yadav said that all the Government universities affiliated to the Higher Education Department would work after planning for 25 years for academic expansion, infrastructure development and to become self-reliant, in which a phased program would be prepared for every five years. Universities will also start courses for Agriculture, Medical Paramedical. Paramedical, courses will be run on the basis of PPP model. Higher Education Minister Dr Mohan Yadav told in a press conference on Tuesday that online review was done with the Vice Chancellors of all the government universities of the state regarding academic expansion, examination programme, recruitment of professors in universities. In this it has been decided that all universities will prepare an action plan for 25 years for infrastructure development. There are plans to open medical colleges on PPP model at Vikram University, Ujjain, Jiwaji Vishwavidyalaya, Gwalior, Devi Ahilya Vishwavidyalaya, Indore and Barkatullah Vishwavidyalaya, Bhopal. The proposal has been received from Vikram University and after preliminary preparation this proposal will be sent to the Medical Education Department. Nursing, paramedical courses are also being started in government universities. Four paramedical courses were started in Jiwaji University, Gwalior last year, they are being expanded. He said that the universities would compulsorily organise an alumni meet once in a year and publish an annual souvenir, which would also contain details of the major achievements of the affiliated colleges. Apart from this, they will prepare a report of regarding the implementation of the National Education Policy. The Universities will also work extensively for the promotion of National Education Policy. Devi Ahilya Vishwavidyalaya, Awadhesh Pratap Singh University and Barkatullah University will start courses related to agriculture. All universities have agreed that the results of all examinations will be declared by June 30.
Minister Dr Yadav said that on May 13, Prime Minister Narendra Modi has proposed the launch of Madhya Pradesh Start-up Policy Implementation Scheme 2022. All the Government colleges and universities have been instructed to ensure maximum attendance of students and provision of projector halls, internet at the college level through YouTube, NIC webcast broadcast.
Digi Locker facility in all universities by May 30: Dr Yadav informed that Barkatullah University, Bhopal and Vikram University, Ujjain have taken an important initiative to make all the documents of the students available online through Digi Locker. Digitax facility will be available in all universities of Madhya Pradesh till May 30. With the innovation of Digi Locker facility, students will not need to carry their documents with them everywhere. Through Digi Locker, students will be able to get their mark sheet, degree, duplicate mark sheet, migration, transcript etc certificates available anywhere.
All universities will prepare for the ranking of NAAC and NIRF. In order to include Devi Ahilya Vishwavidyalaya, Indore among the first 100 institutes of the country and to get A++ grading, an 11-member committee has been constituted and a gap analysis has been done. Advertisements have been issued to fill the vacant posts in 11 universities of the state. But keeping in view the need of NAAC grading, the posts of professors will also be filled by deputation in all the universities. Dr Yadav informed that online review of Centre of Excellence being made in universities under Governance and RUSA item was done. 15 Centres of Excellence are being set up in three universities. Centres of excellence will also be set up at Vikram University, Ujjain and Rani Durgavati University, Jabalpur. From the coming session, Jiwaji University, Gwalior, Devi Ahilya Vishwavidyalaya, Indore will also start agriculture courses. In the incubation centres running in six universities of the state, work on 19 start-ups have been identified. These centres have also filed 15 new patents. Campus placements in universities are being strengthened more. This year 1,600 students got placement in Devi Ahilya Vishwavidyalaya, more than 700 in Vikram University, 147 in Barkatullah University.