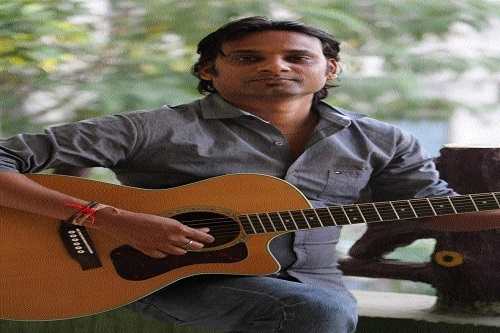 By Dr Abhinav Mishra
Bollywood has long been the benchmark for music artists to kickstart their careers from across India. In fact, the music industry is still predominantly localised in Mumbai and the newcomers are still asked to tag along with Bollywood singers to make their name. Having said that, there has been numerous promising music artists who just don't want to stick in the Bollywood world only, and aspires to carve a niche of their own in regional film industries.
Meet 45-year-old Kanhaiya Thakur aka Pappu of Raipur, who has been an established guitarist in Bollywood music industry over the years. But this guitarist par brilliance had decided to make a name of himself in regional movies as well, and thus have made his debut as a music composer in Chhattisgarhi movie 'Sanju Ke Dulahaniya'. This extremely talented musician has composed all the 7 songs of this film. Of late, motion poster of this eagerly awaited movie has been released and its background tune has been so foot-tapping and catchy that thousands of people has been making it as ring-tones of their mobile phones.
If we talk about the achievements of Pappu Thakur in Bollywood music industry, he has worked with renowned singers and musicians like Vishal-Shekhar, Salim-Suleman, Arman Mallik etc as their main guitarist and have also travelled across the world with them in numerous musical concerts. Adding another jewel in his crown, he had also been the lead guitarist in famous television shows like The Kapil Sharma Show and Sa Re Ga Ma Pa L'il Champs.
"Music shouldn't be just a tune, it should be a touch. Dedicated effort has been put by me to compose all the seven songs of the movie. These songs are very soulful, melodious and are in consonance with romantic theme of the movie. Also, the songs magnificently highlights the culture and traditions of rural Chhattisgarh," said this musician par excellence. He further said, "Besides working in Bollywood, I always wanted compose music in Chhattisgarhi movies also and promote my State's movie industry. But, I was waiting for a suitable opportunity. Shri Maheshwar Nag, who is the superb writer of the movie 'Sanju Ke Dulahaniya', approached me and narrated me the storyline. I was so impressed and forthwith made up my mind to be a part of the movie as music composer".
One very interesting fact about this movie has been that most of its members are newcomers. Movie's Director Hitesh Dewangan, Producer Praveer Gupta, Script-writer Maheshwar Nag, lead actor Lakshit Jhanji and lead actress Gunjan Agrawal have been making their debuts in Chollywood. New talent bode well for the movie industry, as they bring refreshing content.
"The movie has been shot at picturesque locations of Nagri, Dhamtari, Kawardha and Raipur. Marvellous and colossal sets has been used. I am pretty sure that people will get thoroughly entertained. And of course, the music given by Pappu Thakur will usher a new era in music industry of Chhattisgarh", said writer of the movie Maheshwar Nag, presently posted as Additional Superintendent of Police (ASP), Raigarh. The movie has been scheduled to get released in the coming month. Will this movie be able to leave an indelible imprint in the minds of the viewers? Will this movie be blockbuster hit? Time will tell.