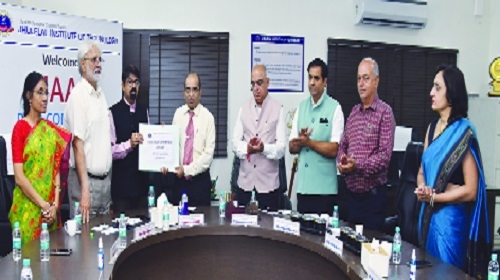 Business Bureau
NAAC (National Assessment and Accreditation Council) Peer Committee visited Jhulelal Institute of Technology on April 25 and 26 for Reassessment of NAAC- 1st Cycle. JIT has been awarded A+ grade by NAAC.
The Peer team members visited all the departments and prominent cells of the institute during their two-day stay. The members were happy to see involvement of students in each and every activities including inaugural event, innovative projects, co-curricular and extra-curricular activities, cultural event etc. Members were delighted to see one of the innovative projects of Mechanical Engineering Department – a Lion Sculpture made from the scrap of old vehicles. The Peer Team Chairman appreciated the efforts of the student and rewarded the student Rs 5000 cash for his outstanding work and motivated him. The team was happy with the positive response of all the stakeholders of the college - students, parents, alumni, employers, faculties and staff.
They also appreciated synergy amongst management, faculties and staff and hard-work taken by all of them to achieve this great success. Involvement of female faculties and students in all important positions was also acknowledged by the Peer Team. Mahesh Sadhwani, Chairman, Virendra Kukreja, Secretary, Dr Madhavi Wairagade, Director HR & Admin, Dr Narendra Bawane, Principal, Dr Debasis Bhowmick, Vice Principal and Mona Mulchandani, IQAC Coordinator took efforts to upgrade the system of the Institute. Management appreciated the untiring efforts taken by NAAC Coordinator - Rohan Ingle and Criteria Incharges- Dr Swati Rahate, Reena Thakur, Prakash Dhopte, Safal Shambharkar, Mahadev Mahajan, Nisha Balani for this grand success.
The management is indebted to the contribution of teaching and non-teaching staff and all the stakeholders of the institute.