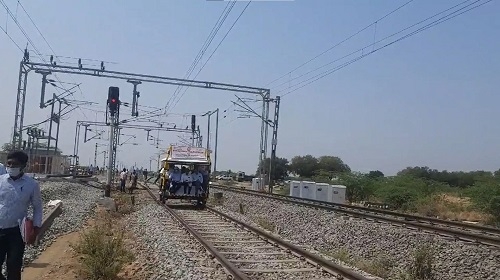 Staff Reporter
Rail Safety Commissioner (East Circle), Kolkata, Suvemoya Mitra recently conducted inspection of rail line tripling project on Sagar-Makronia rail block under West Central Railway. During the inspection, safety commissioner conducted a successful speed trial on new track with 130-km/hour speed.
It may be noted that WCR is bring pace to rail infrastructure construction works for development of rail line projects connected with industrial areas. WCR has completed total 7-kms tripling of rail lines on Katni-Bina rail block in Jabalpur Division under infrastructure expansion project.
On the occasion, senior officer was accompanied by heads of different departments include engineering, operation, electrical, signal and telecom. Rail Safety Commissioner inspected the works of tracks, bridges, station, resources, OHE line, related equipments, signalling and other works and tested its efficiency. He also conducted inspection of two railway stations at Sagar and Makronia and checked- out safety arrangements. Total 8 small bridges, two road over bridges, 3 curve and 4 level crossing gate were constructed on Sagar-Makronia rail block.
West Central Railway has completed 7-kms line doubling and tripling work in year 2022-23 after completing 179-kms line tripling work in year 2021-22. Line doubling work of 103-kms was completed under Bina to Kota Section from Ashok Nagar 13-kms, Bhaura to Bijora 26-kms, Bina to Kanjiya 20-kms, Ruthiyai to Motipur Chowki 17-kms, Bijora to Bara 13 –kms and Ore to Prpraigain 14-kms.
Total 37-kms doubling under Katni to Singrauli Section include New Katni Junction to Katangikhurd 8-kms, Dvragram to Majholi 8-kms, Salhana to Khanna Banjari 21-kms. Total 6-kms doubling work under Rewa to Satna Section was carried out from Sakariya to Kaima. Total 40-kms line tripling work under Katni to Bina include Hardua to Rithi 15-kms, Malkheri to Khurai 18-kms and Sagar to Makronia 7-kms.
During the inspection, Commissioner expressed his satisfaction over the project work. It was informed that right with the commissioning of rail block, trains operation will be started on new lines. Tripling of tracks will enhance speed of trains to ensure economic development of the area. Speeding of freight trains will increase industrial activities in several areas of Madhya Pradesh.