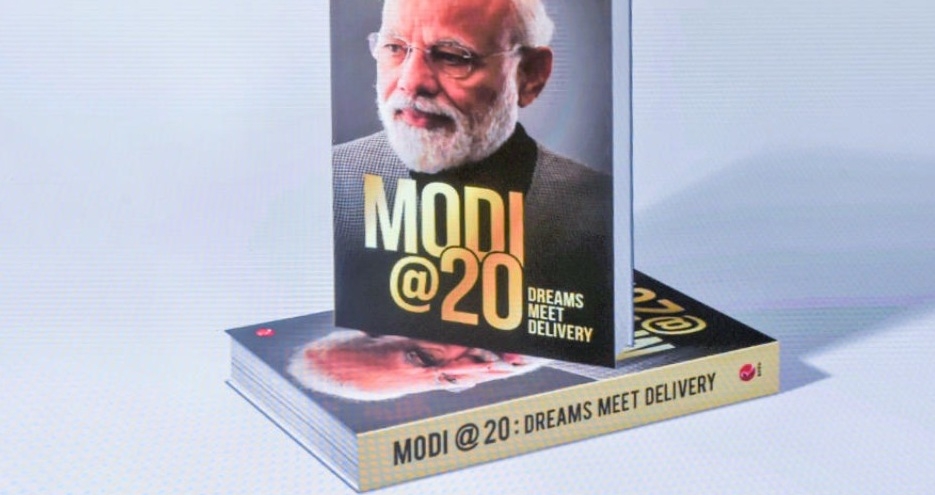 NEW DELHI :
ASSERTING that even detractors of Prime Minister Narendra Modi agree that he is a "phenomenon", Vice President M Venkaiah Naidu on Wednesday said that while Mahatma Gandhi took the freedom struggle out of the hands of the elite to turn it into a mass movement, Modi had converted developmental initiatives into mass movements. Naidu also said that Modi put to effective use his valuable learnings to write a development script for his State of Gujarat as its Chief Minister and scaled up the same at national level as Prime Minister. Addressing the gathering after releasing the book 'Modi @ 20: Dreams Meeting Delivery', Naidu said, Modi's vision, his dreams and Mission India have been shaped by his extensive travels and insightful, experiential journey.
Edited and compiled by BlueKraft Digital Foundation and published by Rupa, "Modi @ 20: Dreams Meet Delivery" looks into 20 years of Modi's model of governance in Gujarat and at the Centre. It is a compilation of chapters authored by the likes of Shah, Ajit Doval, Sudha Murty, Nandan Nilekani, Arvind Panagariya, S Jaishankar, Lata Mangeshkar, P V Sindhu and Nripendra Misra among others. "This is the fundamental differentiator that makes Modi unique in several ways. There is probably no other public figure in contemporary times who has had a comparable experiential journey as Modi," he said. The first Prime Minister born after Independence, Modi, has, over the last 20 years, carved out a unique place in the history of post-Independent India, Naidu said.
"Even his detractors, opponents agree that Modi is a phenomenon. He is a phenomenon, whether you like it or not, at the national level and even at the international level also. We are all seeing the reports that a person who previously had no administrative experience earlier, becoming a Chief Minister doing wonderful work, and then becoming a Prime Minister. In the international arena also, he is recognised and respected, India also is respected and recognised," Naidu said. PEOPLE HAVE GREAT FAITH IN MODI'S LEADERSHIP, LOVE HIM IMMENSELY, SAYS SHAH: The people of India have great faith in the leadership of Prime Minister Narendra Modi and love him from the bottom of their heart and it is very significant that he became the leader of the nation without any family background, Union Home Minister Amit Shah said on Wednesday. Meanwhile Senior BJP leader and Union minister Mukhtar Abbas Naqvi lauded Prime Minister Narendra Modi as an "institution" of good governance and as someone on a "mission of inclusive development". Speaking to reporters after the release of the book "
[email protected]
: Dreams Meet Delivery", Naqvi said, Modi has defeated "political intolerance and phobia" of the "Modi bashing brigade" through his diligence and determination for empowerment without appeasement.