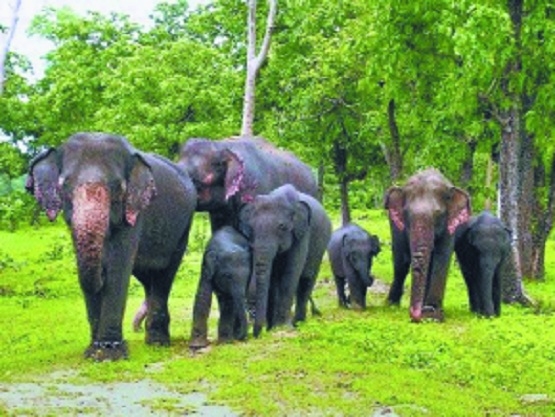 Staff Reporter :
Out of eight, four healthy jumbos will be kept in Kamlapur itself and Jamnagar's Radhe Krishna Elephant Welfare Trust will bear all expenditure incurred on the upkeep of these elephants too
Ministry of Environment Forest and Climate Change (MoEF&CC), Government of India, has given a green signal to Maharashtra Forest Department to transfer 13 elephants from Kamlapur elephant camp, Sironcha, Patanil and Tadoba Andhari Tiger Reserve (TATR) to Radhe Krishna Elephant Welfare Trust at Jamnagar in Gujarat. According to a letter issued by Yuvraj S, Conservator of Forest (P&M), Nagpur, the aged and untrained elephants with their calves will be sent to Jamnagar and the Trust will provide better medical facilities to them.
The Trust will bear all the expenditure right from transportation to facilities and comfort. It will not engage them in any works, the letter stated. Forest Department is taking help of different veterinary experts from government and private institutions to provide a better health to these elephants in the camp. After tremendous protest by citizens of Chandrapur district, the government has decided to keep four healthy elephants out of eight in Kamlapur itself and remaining will be shifted to Jamnagar. The Trust will also take care of all requirements of four jumbos in Kamlapur and bear all expenses incurred in the upkeep of the elephants. The elephants were brought to Kamlapur for the purpose of timber-logging. These elephants have been kept at the camp since their use for timber-logging was stopped. At present, there are four elephants from Kamlapur Camp, three from Patanil Camp in Gadchiroli and 6 from TATR to be shifted to Jamnagar. The camp started way back in 1960 when four elephants were brought to the camp from Nashik for transportation of logs of huge trees. Though this place is remote, locals employed on daily-wages are appointed here to take care of the elephants. The elephants require 45 kgs of rice, five kgs of jaggery, one litre oil, and one kg salt daily for their diet. Kamlapur of Gadchiroli district is the only camp for elephants in Maharashtra.
Due to the scenic beauty of the place and the natural habitat of the elephants, the protest erupted at a massive level against the shifting of these jumbos. Suresh Chopane, Member, MoEF&CC, said, "It is right that Forest Department is facing financial crunch to take care of these elephants in Kamlapur. Now, the decision of Central Government to keep four jumbos in Kamlapur itself on the expenditure of the Trust is a welcome decision." "Maharashtra has a limited number of elephants and most of them are in Gadchiroli and in TATR. The Central Government should come forward and declare Gadchiroli for elephant tourism for the better life of these jumbos and it will also help to create job opportunities for locals," said Chopane.