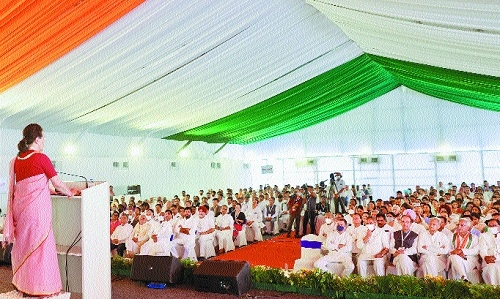 UDAIPUR,
TOP Congress leaders began their three-day brainstorming conclave here to revive the organisation ahead of the upcoming election cycle.
The 'Nav Sankalp Chintan Shivir' which opened with party chief Sonia Gandhi's remarks is expected to witness major structural reforms including the 'one family, one ticket' formula with exceptions based on high levels of performance in a party role for five years.
The formula will pave the way for leaders like Priyanka Gandhi and Vaibhav Gehlot
to contest elections as they have worked in party positions since 2019.
Among the proposals on the table for the conclave include enforcing the 'one family, one ticket' formula granting exemption to only another family member who has been doing "exemplary work" for the party for a period of at least five years.
The other major organisational reforms being considered include establishing mandal committees between booth and block level in the organisation, 50 percent representation to those below 50 years of age in party committees at all levels, fixing the maximum of five years tenure for party positions with a cooling off period of three years, setting up of a 'public insight department' for creating an in house survey mechanism and an assessment wing to gauge the performance of office bearers.
The party is also proposing to promise granting legal guarantee to MSP for farmers, besides granting 50 percent representation to those below 50 years of age and making unemployment a major issue in upcoming elections.
Senior Congress leader Mallikarjun Kharge said, the party will discuss alliance issues after strengthening its own organisation and unifying its cadres as no partner will come if you don't have any investment .
Congress leader Ajay Maken, who is a member of the coordination committee on organisation for discussion at the Chintan Shivir, said that the meet is being held at a time when the party is faced with a string of electoral defeats and is trying to strengthen itself by initiating organisational overhaul and deciding its strategy to make it future-ready for 2024 general and other state assembly elections. The conclave also comes amid calls by a section for bringing organisational overhaul and elections at all levels.
With party's internal deliberations often making their way out in public, the Congress has adopted a cautious approach at the Chintan Shivir with delegates not allowed to carry mobile phones during internal discussions. The move comes after the Congress chief Sonia Gandhi had raised concerns at the Congress Working Committee meeting this week over internal discussions finding their way out into the media.