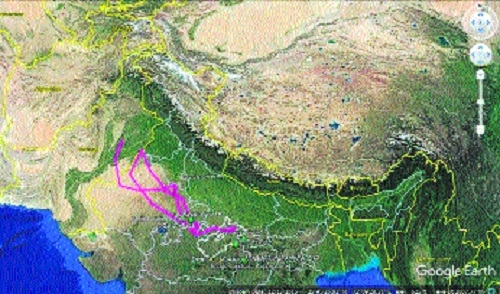 By Ankita Garg
Himalayan Griffin vulture has reached Kullu district of Himachal Pradesh from Madhya Pradesh's Panna Tiger Reserve (PTR) travelling 1,158 kilometre of distance.
The vulture has reached world popular Great Himalayan National Park. For the first time, forest officials in Panna Tiger Reserve tracked the journey of a vulture. Himalayan vultures every year visit the reserve during November. By the end of March or beginning of April, they return to Himalayan region. The reserve officials tagged GPS tracker in 25 vultures including EG 8643, IV 8665, 8670, 8671, RH 8660, HG 8673, 8677, 8654 and 6987 during month of February. Out of these 52 vultures, HG 8654 has reached to the National Park in Kullu. Other vultures are being located around China, Nepal, Pakistan and Everest mountains.
Talking to 'The Hitavada', Director of Panna Tiger Reserve Uttam Kumar Sharma informed that two Eurasian Griffon vultures were GPS tagged along with 23 other vultures in Panna Tiger Reserve in February 2022. He said that these Eurasian Griffon started their journey back home from PTR in month of April. "The current location of one of the tagged Eurasian Griffon vulture, EG 8643 has been received recently, EG 8643 has entered Pakistan. Currently, it is in Lal Suhanra National Park of Bhawalpur district of Punjab Province, Pakistan. It is further moving towards west," he added. He said that movement history of second Eurasian Griffon vulture EG 8661 proved that he went to Pakistan and then came back all the way to MP and again went to Pakistan. As of May 12, it was in Shorkot Plantation Reserve near Multan. In order to gather real information of vulture habitat and their behaviour, a unique initiative has been taken at Panna Tiger Reserve. Expert's team has made GPS tagging of vultures under Vulture Telemetry Project. In this effort, the team has tagged 25 vultures successfully. Under this unique effort, 14 species of vultures have been tagged in 24 countries. For the first time, vulture tagging has been held in India. He said that GPS device tagged in vultures are operated with solar power including 3D sensors. GPS tag help to collect data through satellite. He further informed that GPS tagging has been done by Panna Tiger Reserve and Wildlife Institute of India (WII) Dehradun researcher's team for 2020-21 and 2021-22 during winters. Vulture conservation plan was started in India about 12 years back and telemetry based project is a positive step towards this direction. Through GPS tagging, team will be collecting information about vulture's migration, resident, habitat and other routine lifestyle.