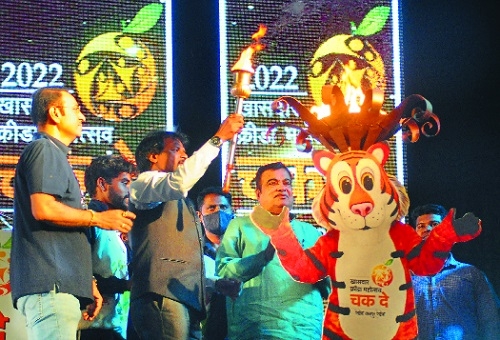 Principal Correspondent
THE delayed inauguration programme frustrated one and all present at the Divisional Sports Complex. But once Padmashree and four-time hockey Olympian Dhanraj Pillay started speaking, the entire indoor stadium listened to him with rapt attention.
Such was his near-to-the-heart and inspirational 10 minutes speech during the opening ceremony of Khasdar Krida Mahotsav Season-4 that sportspersons and invitees forgot the agony of sitting idle for more than 90 minutes.
"I ask all the athletes present here to work hard on the field with dedication and love the country. If you follow these three principles, no body can stop you from reaching the peak," said Olympian Pillay to a rapturous applause.
"The only reason I achieved such dignity on the hockey field is because I followed these principles and respected elders, my parents and my coaches. You should also pay utmost respect to the seniors and family members," continued Pillay.
Thanking Union Minister Nitin Gadkari, who is instrumental in organising this mega sporting event in the city for the past four years, Pillay said he was "overwhelmed" to be seated beside Gadkari.
"Each citizen of the nation today wants to share dais with Gadkari. I am really blessed to be sitting beside him," said Arjuna awardee Pillay.
Pillay was surprised to hear that around Rs 93 lakh will be distributed during this 13-day sporting events. "I think nowhere in the country such a huge amount is given as prize money in sports. I would request Gadkari to increase the prize money to Rs One crore from the next year," said Pillay the Asian Games gold medal winner.
Gadkari, in his speech said that the prize money would be definitely increased from the next season.
"I wish to see around one lakh kids of Nagpur play on field daily. I will definitely increase the prize money to Rs one crore but for that the participation of sportspersons in KKM should be of over one lakh," said Gadkari.
At present around 45,000 sportspersons will be participating in over 30 sports events.
Earlier, Arjuna, Dronacharya, Dadoji Konddeo and Shiv Chhatrapati award winner Vijay Munishwar unfurled the KKM Games flag.
Players from all sporting events performed march past.
The inauguration function saw demonstrations from various sports organisations. Rope Malkhamb players from Shourya Sports Academy mesmerised all with their performance. Yoga was also performed by students of Amit Sports Academy and Amit Vidyalaya. Keshav Nagar Madhyamik Shala's students performed lezim.
In the end Olympian Pillay showed his skills as he tossed his autographed tennis balls with hockey stick and sent them flying into the stands.
The inaugural function was also graced by former Union Minister Hansraj Ahir, Former MLA Vikas Kumbhare, President of Softball Federation of India Nital Narang, Parinay Fuke, Convenor of KKM-4 Sandip Joshi, Dayashankar Tiwari, former MLAs Sudhakar Deshmukh, Girish Vyas, Sudhakar Kohale, Dr Milind Mane, Jaiprakash Gupta and Charansingh Thakur.
Piyush Ambulkar, Nagesh Sahare, Dr Padmakar Charmode, Dr Sambhaji Bhonsale, Dr Vivek Awasare, Sachin Deshmukh, Ashfaque Sheikh, Sachin Mathne, Sunil Manekar, Laxmikant Kripane, Ashish Mukim, Prakash Chandrayan and others were also present.