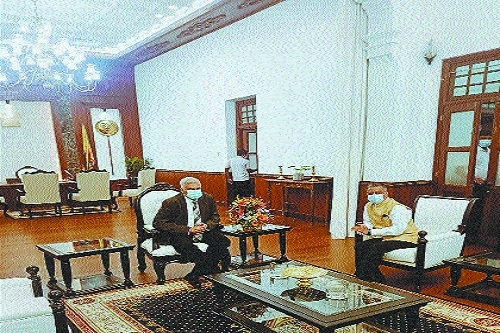 COLOMBO,
Ranil Wickremesinghe assumed office as the Prime Minister of Sri Lanka for the sixth time on Friday and gave assurance to the people of Sri Lanka that he will ensure the supply of petrol, diesel and electricity to the island country. He expressed his wish to overcome the ongoing economic crisis.
"I want to settle this problem to ensure the supply of petrol, diesel and electricity to the people," said Wickremesinghe, as reported by 'Colombo Page'. Post Wickremesinghe's oath-taking ceremony, he said that "We need to create a country with a future for the youth, where people can eat three meals a day again and free of queues soon."
According to the newly-elected Sri Lankan Prime Minister, his primary agenda will be restoring the economy of
the country, reported
'Colombo Page'. In addition, Wickremesinghe had promised that he will curb the economic woes of Sri Lanka with
international assistance, accompanied by the support of all in the parliament, reported Colombo Page.
Further, Wickremesinghe has also urged everyone to refrain from narrow politics and instead support him in re-building the crippling economy. Presently, Sri Lanka is facing its worst economic crisis
since independence with food and fuel shortages, soaring prices and power cuts affecting a large number of the citizens.
Wickremesinghe, who assumed charge as the 26th Prime Minister told the BBC in an interview that the worst economic crisis that has brought misery and unrest in the island nation is "going to get worse before it gets better." But he said that he would ensure families in the country get three meals a day.
Appealing to the world for more financial help, he said "there won't be a hunger crisis, we will find food".
He described the Sri Lankan economy as "broken", but he said, his message to Sri Lankans was to "be patient, I will bring things back." Wickremesinghe said, he agreed with the sentiment of protesters who have been calling for President Rajapaksa to resign, but said that would not happen. "Blaming won't lead to action, I'm here to see people nourished," he said.
Indian envoy calls on new PM: The Indian High Commissioner Gopal Baglay on Friday became the first foreign envoy to call on the new Prime Minister Ranil Wickremesinghe and discussed with him continued cooperation between the two countries for economic recovery and stability in this island nation. Baglay visited Wickremesinghe immediately after the latter assumed duties in his office on Friday, Prime Minister's office sources said. They discussed the current situation in the country amid the ongoing economic crisis, the worst since the country gained independence in 1948.