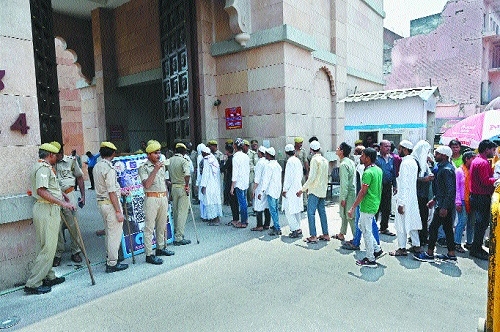 NEW DELHI,
THE Supreme Court on Friday refused to grant an interim order of status quo on the survey of the Gyanvapi-Shringar Gauri complex at Varanasi in Uttar Pradesh. The top court, however, agreed to consider listing the plea of a Muslim party against the survey of the Gyanvapi premises.
A bench comprising Chief Justice N V Ramana and justices J K Maheswari and Hima Kohli was told by senior advocate Huzefa Ahmadi, appearing for the Muslim side in the Gyanvapi mosque case, that a plea has been filed against the survey being conducted at the Varanasi site. "Let me see," the CJI said on urgent listing of the plea. "We have filed in relation to a survey which has been directed to be conducted in relation to the Varanasi property. This (Gyanvapi) has been a mosque since time immemorial and this is clearly interdicted by the Places of Worship Act," Ahmadi said.
He said the direction to conduct a survey has been passed and an order of status quo be passed at the moment. "I do not know anything. How can I pass such an order? I will read. Let me see," the CJI said.
videography begins TODAY: The stalled videography survey of Gyanvapi Masjid complex is set to resume Saturday and the mosque management committee has indicated that it will cooperate for now with the team assigned the task by a local court.
"An important meeting was held with all concerned parties on Friday. An appeal was made to them to cooperate in the commission's work and the maintenance of law and order," Varanasi District Magistrate Kaushal Raj Sharma said.
A mosque committee member said it is waiting for the Supreme Court ruling on the matter but till then it will cooperate with the district court, which has ordered survey.