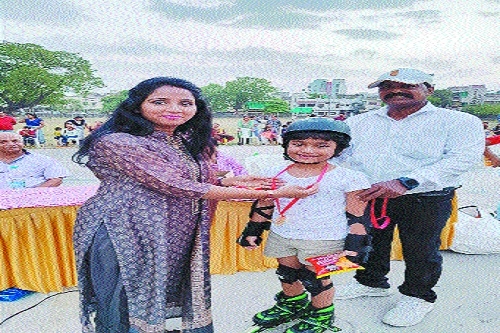 Sports Reporter
SHIVAJI Skating Club recently organised Vidarbha-Level Skating Championship at Shivaji Skating Ground, Gandhinagar on occasion of 35th anniversary of Shivaji Skating Club and Mother's Day. The competition was inaugurated by Dr Parinita Fuke in presence of Basant Jaiswal, Yogesh Hiranwar, Hemant Wasu, ex-Ranji cricketer, Krishna Baisware, Ashish Zanjade and Garry Stacy.
Over 150 skaters participated from Viharbha region in the competition.
Those winning medals include: Atharv Zanjade, Agrani Zanjade, Karan Motwani, Mansi Choudhary, Om Hiranwar, Dakshyani Pahade, Tejas Mule, Devansh Siraswar, Om Bangaiyya, Sudhansu Shakya, Anuj Gahlot, Nivaan Tiwari, Arohi Hardas, Rudra Mishra, Auni Khanke, Yash Lokhande, Sachi Satputaley, Praneel Parhi, Yuvan Agrawal, Gauri Tikekar, Saatvika Pathak, Aryan Ahir, Vyom Siriya, Shivash Dharmadhikari, Rudraksh Yadav, Zinaya Babariya, Raj Hiranwar, Sonakshi Hiranwar, Shonak Raut, Prapti Jaiswal, Shivansh Kalucca, Aradhya Kanojia, Parisha Fuke, Aashka Bansod, Johan Boubaria, Adhiraj, Mahit Vamsi, Naitik Birha, Tvisha Shah, Rudransh Hiranwar, Garvita Vakhariya.
The winners give the credit of their success to coach Krishna Baisware, Teena Kanojiya and Harsh Kanojiya and Shreyash Shende.