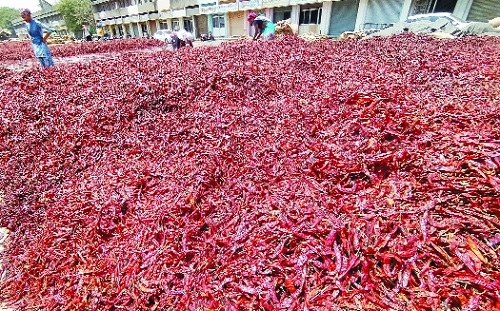 By Prashant Dongre
Billed as one of the largest marketyards in Asia, the APMC, Kalamna, registered a turnover of Rs 2,600 crore in the financial year 2021-2022 as compared with Rs 2,500 crore recorded in the financial year 2020-2021. This upsurge of Rs 100 crore in the turnover is mainly attributed to the rise in the prices of chilli, sources in the market disclosed.
It also said that Agriculture Produce Market Committee (APMC) had received Rs 26 crore as Mandi Fees. The production of good quality of chilli in the growing areas like Bhiwapur, Umrer and Warangal was bumper which was supported by huge demand. This led to spurt in the prices of chilli in the APMC, Kalamna. Majority of farmers bring chilli from growing centres to Kalamna marketyard.
In the wholesale market, chilli prices were quoted over Rs 150 per kilogram.
Other agriculture produce like onion,soyabean, fruits, mangoes, vegetables, apples, grapes, wheat, rice etc., also contributed in the total turnover of APMC during the financial year 2021-2022.
Sources added that in the last fiscal, there was remarkable trading in the 'Bakra Mandi' which also supported to the hike in turnover.
APMC, Kalamna receives mangoes from States of Andhra Pradesh, Karnataka and in Maharashtra from Paratwada, Amravati and Achalpur. The 'Alphonso' mango comes from Konkan belt. The prices of mangoes this season were in the range of Rs 60 to Rs 90 per kg in the wholesale market which were oscillating between Rs 35 to Rs 50 in the previous season. Significantly, this year there is restricted supply of lemon in the APMC, Kalamna which made it costlier in the retail market. Sources said, there was unfavourable climatic condition for the growth of lemon which effected on the output. Even, the size of lemon has been reduced. In retail, lemon is priced at Rs 20 for 3 small size pieces.
Of the total vegetable trading, 40 per cent is contributed from Madhya Pradesh while the rest is shared from adjoining places of Nagpur district. The trucks laden with vegetables arrive daily in APMC, Kalamna at 2 am. The trading continues upto 8 am. All the agriculture produce that is unloaded in the wholesale market is put for auction.
APMC, Kalamna marketyard covers 178 acres of land.
There are close to 1,200 commission agents. It provides direct and indirect employment to over 20,000 people. A GR was taken out under which APMC Act was amended to hike the Mandi Cess from Rs 1.05 to Rs 1.10. Mandi Cess is levied on selling price of the agriculture produce.
The Mandi Cess covers market fees which is Re 1 and 10 paise as supervision fees. Earlier, the supervision fees was 5 paise which has been increased to 10 paise after the amendment.