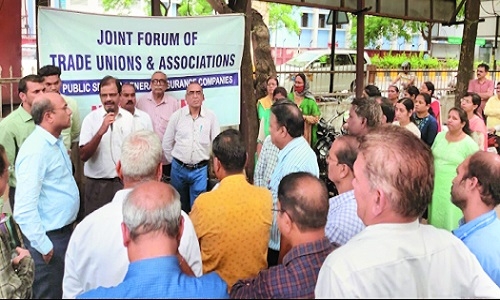 Business Bureau
As per the decision taken in the meeting of Joint Forum of Trade Unions and Associations (JFTU) in Public Sector General Insurance (PSGI) Companies, the General Insurance workers on Thursday staged lunch hour demonstrations at various head officed / regional offices and other centers.
The demonstrations carried our mainly for immediate settlement of their Wage Revision. The employees also demanded 1995 Pension Scheme to all by crapping National Pension System (NPS), Unifor Family Pension of 30 per cent, updation of pension and to repeal the amendments in General Insurance Business Nationalization ACT (GIBNA).
In the city, PSGI employees gathered in front of the Regional Office of United India Insurance Co. Ltd., at Shankarnagar and shouted slogans for their demands.
A gate meeting was organised after the demonstrations. Swapnil Kohle of United India Insurance Company Officers Association, Anant Borekar of National Insurance Company Officers Association, Pravin Dongre of All India SC/Sc Employees welfare Association, Swapnil Bhure of General insurance Backward Class Employees Welfare Association and Prashant Dixit, General Secretary of General Insurance Employees' Union, Western Zone addressed the meeting.
Swapnil Kohle condemned the management and the Government for delaying the wage settlement. Anant Borekar said that along with the demands they also have to fight against closure and merger policy, which affects the business of the PSGI companies. Pravin Dongre appeal to the employees to come together and intensify the struggle. Shailesh Bhure said that they should struggle hard for the demands.