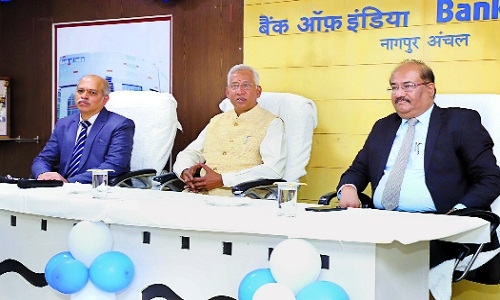 Business Bureau
N Karthikeyan, Executive Director of Bank of India (BoI), was on a visit to the Nagpur Zone recently. He was accompanied by Radhakanta Hota, General Manager, NBG- West II based in Pune.
BoI Nagpur zone had planned a mega disbursement campaign from May 23 to 26. The zone did a total disbursement of Rs 125.62 crore during the 4 days including Rs 31.48 crore under agriculture, Rs 13.25 crore under gold loan, Rs 25.27 crore under retail and Rs 55.62 crore under MSME.
On the occasion, N Karthikeyan expressed his sincere gratitude to all the customers present for contributing towards the increase of net profit of the bank by 142 per cent in Q4 of FY 2021-22. He advised that in the current scenario, the marketing gimmick of getting more business is to satisfy one customer and in return he would refer one more prospect to the bank. He also gave emphasis on new age Government business products like Sukanya Samriddhi Account, PPF accounts, Senior Citizen Saving Accounts, New Pension Scheme, RBI Floating Rate Saving Bond, Sovereign Gold Bond and the way they contribute to non interest income of the bank.
Zonal Manager of BoI Nagpur Zone Santhosh S thanked all the customers for their patronage towards the bank. He assured both the executives that the zone would continue its progress with renewed vigour and strive hard to achieve budget under all parameters.
Deputy Zonal Manager, Nagpur Zone Ratna Kumar Chatterji proposed the formal vote of thanks.