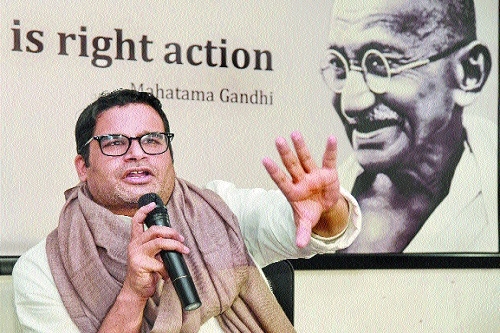 PATNA,
POLITICAL strategist Prashant Kishor on Monday caused ripples in the choppy waters of Bihar politics with the cryptic announcement of a fresh "shuruat" from his home State.
Kishor came out with a tweet in which he called a "roller coaster ride" his spectacularly successful decade of political consultancy which saw him working with clients as diverse as Narendra Modi, Mamata Banerjee and Jaganmohan Reddy.
"My quest to be a meaningful participant in democracy and help shape pro-people policy led to a roller-coaster ride! As I turn the page, time to go to the Real Masters, THE PEOPLE, to better understand the issues and the path to Jan Suraaj – people's good governance", tweeted Kishor, adding the hashtag "shuruat Bihar se" (Beginning from Bihar).
The Twitter post indicated his turn towards active politics in his home State. According to I-PAC, the political consultancy firm founded by Kishor, he is likely to come out with more details about his future project at a press conference here later this week. While it remains to be seen what course Kishor takes, the State BJP has expressed its vexation.
"Prashant Kishor is neither a social scientist nor a political scientist. He is a power broker and a middleman. He can be nothing more than a vote katwa (spoiler) in Bihar politics", said State BJP spokesman Nikhil Anand in a strongly-worded statement.