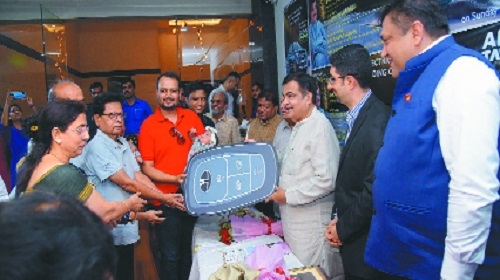 Business Bureau
Aditya Tata Cars on Sunday handed over 51 electric cars to its customers. The delivery of the cars was done at the hands of Union Minister Nitin Gadkari at a function wherein Justice (Retd) V S Sirpurkar was chief guest while guests of honour were Jaiprakash Gupta, Sundeep Sainani, National Sales Head, Electric Vehicles Tata Motors Passenger Vehicles, Mumbai, Avinash Rai, Zonal Lead, Electric Vehicles, West Zone, Tata Motors Passenger Vehicles, Mumbai, and Rishabh Shukla, Territory Sales Manager, Tata Motors.
TATA Motors has been the pioneer of green energy when it comes to automobiles in India. Boasting of more than 90 per cent of market share in the electric cars market, Tata cars are not only extremely popular but they've also been proven to be very safe and of top-notch quality.
Moreover, the cost of running the car is 97 paise per km as it needs no fuel – only electricity. In addition to this, Tata has over 1300 charging points in 200+ cities across the country, thanks to its partnership with Tata Power. Tata has sold a total of around 19,000 Nexon
EVs in India so far, making it the best-selling electric car in the country.
Gadkari appreciated Tata's efforts towards green mobility and spoke about how the green movement is the only way forward. Ceremonial keys were handed over to Piyush Agrawal, Sadhna Rakshamwar and Aditya Kanhere. The function was compered by Aditi Jain Punyani and was hosted by Dr Prakash Jain, owner of Aditya Tata Motors.