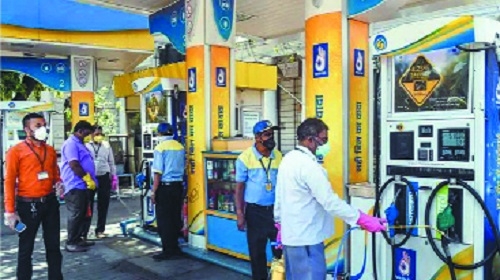 Business Bureau
Setting aside the aggravating fuel crisis in many places, the petrol pump dealers across the city are firm on their decision to observe 'no purchase' day on May 31. The dealers said that they will not purchase diesel and petrol from the oil companies to highlight their long pending demand of hike in dealers' commission.
All the 100 pump owners within the city limit will not purchase petrol or diesel from the state-owned oil marketing companies (OMCs) on May 31. However they will sell it to the consumers throughout the day as per the stock availability.
Amit Gupta, President of VPDA, told The Hitavada on Monday that the 'no purchase day' is a symbolic strike which will not affect the consumers. "All the dealers will keep their outlets open for the consumers on May 31," he assured.
But for the two to three days, non-availability of fuel at the city's outlets was haunting the consumers. The shortage was seen at many outlets of BPCL and HPCL even on Monday and the possibility of further shortage of petrol and diesel due to the so-called 'symbolic strike' cannot be ruled out.
It is interesting to note that after the two oil companies have reportedly stopped selling fuel on credit to the dealers, the shortage of petrol and diesel surfaced. Apart from this, there are other technical issues that are causing the shortage.
In a communiqué issued by the Vidarbha Petroleum Dealers Association (VPDA), the dealers claimed that there was an agreement between OMCs and the dealers association that the dealers' commission will be revised every six months in line with the All India Consumer Price Index. "But this has not been done since 2017. In the meanwhile, the cost of fuel has doubled and so are the other expenses of the dealers. The prices of fuel have almost doubled since 2017, hence the working capital in business has also doubled leading to additional loans and bank interest and the evaporation losses have also increased proportionately," said VPDA.
Gupta said that the reduction in Excise Duty on two occasions has further led to huge financial loss of the dealers. "On an average, every pump owner incurred a loss of about Rs 3 lakh. The recent losses on account of Excise Duty reduction should be reimbursed by the OMCs and future price change should happen in line with Dynamic Pricing Mechanism," he added.
Around 70,000 outlets across 24 States in the country will not buy fuel from oil marketing companies on May 31.
Apart from Maharashtra, 23 other States where dealers will join the protest are Tamil Nadu, Karnataka, Kerala, Telangana, Andhra Pradesh, Delhi, Punjab, Haryana, Rajasthan, Gujarat, Himachal Pradesh, Bihar, Assam, Meghalaya, Arunachal Pradesh, Mizoram, Nagaland, Manipur, Tripura, Sikkim, the North Bengal Dealers Association, Madhya Pradesh, and Uttar Pradesh.