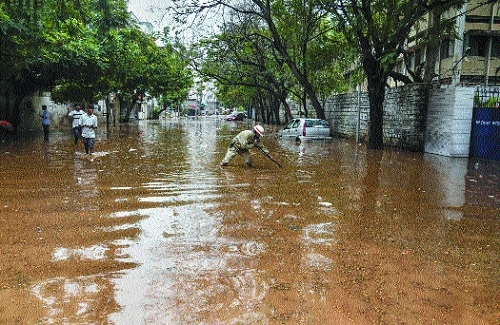 HYDERABAD,
BOATS were out in parts of old Hyderabad to rescue people as heavy rains accompanied by gusty winds lashed the city early Wednesday morning.
Authorities said there was cloudburst leading to heavy rains in a short duration, inundating low-lying areas, disrupting vehicular traffic and electricity supply in many parts of the city.
The residents of Hyderabad and suburbs woke up to thunderstorms on Wednesday as high intensity rains in a couple of hours left low-lying residential areas and roads
inundated. The gusty winds also uprooted trees and led to blackouts in several areas. Water-logging on key
roads in several areas in Hyderabad, including Basheerbagh, Khairatabad, Lakdi Ka Pul, Secunderabad, Kukatpally, Malakpet, Alwal and Uppal disrupted vehicular traffic.