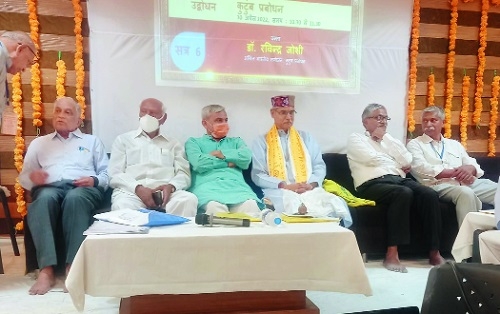 Business Bureau
THE All India Varishtha Nagrik Parisangh, run by the Bharatiya Mazdoor Sangh (BMS), was held on April 29 and 30 in Bhopal with great enthusiasm. The convention was inaugurated by the All India General Secretary of BMS Vinay
Kumar Sinha.
On the occasion, National President of Varishtha Nagrik Parisangh Hasubhai Dave, General Secretary Vasant Pimplapure, General Secretary BMS Madhya Pradesh Madhukar Rao Sawale, National Vice President Nita Choubey, Vice President Jagdishwar Rao, National Minister K P Singh, Regional Constituent Dharamdas Shukla were present on stage.
In his inaugural address, Vinay Kumar Sinha said, "Senior citizens are experienced and knowledgeable and their guidance and active cooperation can give life to the work of the BMS."
In his presidential address, Hasubhai Dave said, "Senior citizens can become the guides of the younger generation. A large number of young people are becoming active with responsibility in the work of BMS. But, due to lack of experience, they are seen facing difficulty. Therefore, senior citizens can play the role of crisis rescuers." Neeta Choubey and senior worker Geeta Gokhale guided the participants.
The eldest campaigner of Rashtriya Swayamsevak Sangh and the eldest guide of Bharatiya Mazdoor Sangh Sudhakarrao Kulkarni and Arvind Moghe were felicitated.
More than 260 delegates from 19 states were present in the convention. In the session, various resolutions were passed. All India Working Committee was formed for next three years. Hasubhai Dave was re-appointed as President and Vasant Pimplapure, General Secretary, informs Suresh Choudhary, Secretary, Varishtha Nagrik Parisangh.