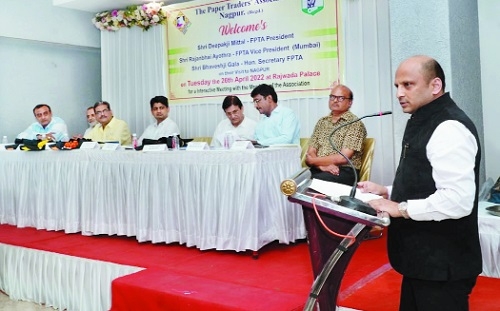 Business Bureau
The paper prices are likely to rise further in the near future due to shortage of paper waste, paper pulp and Government's policy on imports, said Deepak Mittal, National President of the Federation of Paper Traders Association (FPTA).
Mittal was in the city recently to attend the meeting of Paper Traders Association (PTA) Nagpur. FPTA National Secretary Bhavesh Gala, Regional Vice President (Mumbai) Rajan Ayotra along with PTA President Ashish Khandelwal, Vice President Lalit Sood, Secretary Harshit Bhansali, Joint Secretary Kishor Khushlani, Nominated President Aseem Bordia, all former presidents Mahesh Khandelwal, Pramod Bhargava, Narendra Jain, Vijay Khandelwal, Rajesh Khandelwal, Manoj Biti, Satish Ahuja and members of the Organizing Board were present.
FPTA National President Deepak Mittal expressed concern over the prices of paper and related products and said it would go up sharply without any possibility of reversal of price in the future. The Russia-Ukraine war has led to a sharp decline in global production of pulp and has resulted in the closure of paper mills," said Deepak Mittal. Ashish Khandelwal gave spoke about PTA in the foreword while Vijay Khandelwal shared the history of the organisation. Mahesh Khandelwal shed light over the preparations for the forthcoming conference to be held in Nagpur from September 17 to 19. Bhavesh Gala proposed the vote of thanks while Rajan Ayotra gave information about FPTA. Harshit Bhansali conducted the proceedings. Mahesh Kandhari, Vinod Jain, Ravi Bhoyar, Manoj Rathi, jai Gandhi, Manish Hatewar, Piyush Daga, Pawan Agarwal, Sanjay Bhargava, Kishore Deshmukh, Manoj Jain, Ramesh Gupta, Pratik Jain, Darshan Shah, Narsingh Sarda, Gopal Kayal, Bulchand. Khushlani, Piyush Fattepuria, Niraj Khandelwal etc. were present prominently for the meeting.