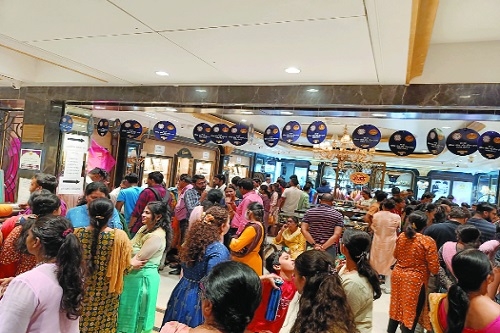 Business Bureau
On the occasion of Akshaya Tritiya, Rokde Jewellers' four showrooms at Laxminagar, Mahal, Itwari and Airport experienced a overwhelming response from the customers. The customers got to
experience the most magnificent collection of unique jewellery this time.
On this occasion, Rokde Jewellers brought a special collection for gold, silver, platinum and diamond jewellery. So customers got more benefits than ever when buying their favourite jewellery. Whether it is gold or silver, platinum, diamond or Navagraha gemstone jewellery, the customers emphasize on buying their favourite jewellery while shopping for all kinds of jewellery.
"We were able to experience special happiness on the faces of the customers throughout the day and there was a lively atmosphere among all our staff members and also in the Rokde Jewellers family as a whole," said the jeweller.
"On this occasion of Akshaya Tritiya, we truly thank all of you for your enthusiastic response. We will endeavour to enhance the trust you have shown in Rokde jewellers and ensure that we continue to bring to you a wide range of special consumer interest activities, events, festivals," added the jeweller.
It's believed that buying gold on Akshaya Tritiya will bring prosperity and fortune. Because it is Akshaya day, it is believed that gold purchased on this day will continue to appreciate. Also it is believed that, by buying metals like gold, silver, and bringing other valuable items, one welcomes Goddess Lakshmi (goddess of wealth and prosperity) to their homes. Hindu devotees seek blessings of goddess Lakshmi on this day and offer the new valuable metals to goddess Lakshmi. The entire day of Akshaya Tritiya is considered fruitful to invest in gold, silver or any other material.