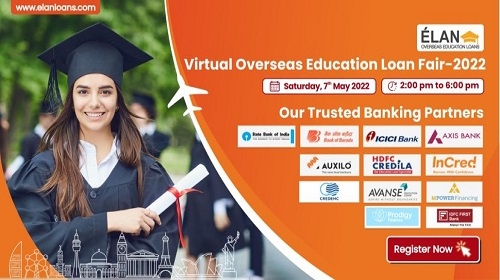 Business Bureau
KC Overseas Education will conduct a 'Virtual Overseas Education Loan Fair' through ÉLAN, the fintech division of KC. The virtual fair will be on May 7 from 2 pm to 6 pm where the participants can interact online with leading banks and financial institutions in India.
There are multiple benefits of attending this fair apart from the fact that you can attend the fair from anywhere. Country specific loan counselling, choice of multiple banks under one roof, virtual interaction with loan officers, instant assessment for loan eligibility, secured and unsecured loan options and assistance on documentation are the major advantages of attending this fair.
Here are a few check points to note why one should choose E'LAN for Overseas Education Loan processing. Other than the choice of multiple banks, the participants will get free profile evaluation and financial assessment, end-to-end assistance for education loan, evaluation and guidance for property documents and assistance inpre visa disbursement, all this at zero service charges.
The ÉLAN Loan Experts will also help the participants with an unbiased comparison between different banks and rate of interest.
ÉLAN has assisted over 10,000 students so far and disbursed overseas education loans of more than Rs 500 crore through its more than 12 banking partners. Give flight to your study abroad dreams by attending this Virtual Overseas Education Loan Fair. Interested persons may register for the fair and get a step closer to accomplishing their study abroad goals.