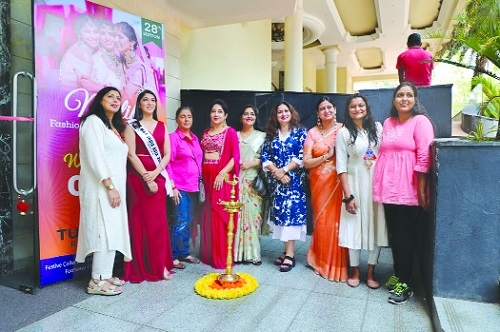 Business Bureau
Malika Fashion and Lifestyle Exhibition has opened its doors for the visitors in the city. The organisers have once again brought together all the à la mode people of the city under one roof. It exhibits the dainty creations of wonderful designers from all over India at Hotel Tuli Imperial.
The exhibition will remain open till May 9. Featuring a wide range of elegant lifestyle products, apparels and home decor, Malika has it all covered at one location, providing a one-stop destination to fulfill an extensive assortment of taste of the shoppers and complementing the wedding season, it puts forth the summer wedding collections.
The exhibition has established itself as a popular shopping destination in Nagpur. This time it will not only exhibit the finest creations of well-established designers like Swarush by Vrushali but also debut the collection of many fresh, new designers.
Especially curated for the taste of its savvy shoppers, home decor articles and pieces from Creative Hub Delhi and Glitz and Glam, have been made accessible to all. Also welcoming skillful designers from all across India like Dilli Haat, Wall22, Rooparang, Sagun Art & Jewellery, Lucknowi Kurti's & Plazos, Yashank Creations, Anand Designer's Hut are also a part of Malika.
To make the most of this tastefully picked assortment of fashion, lifestyle and home decor items do visit the on-going exhibition on its last day today and be a part of the fun and frolic that Malika brings to the city. For further details call on mob. 8625940655.