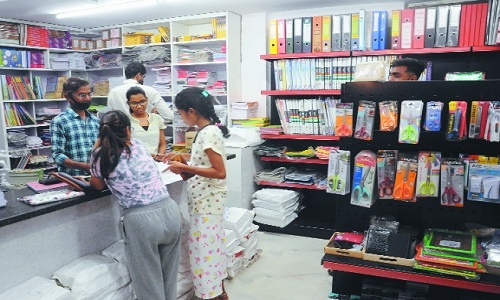 Business Bureau
AFTER a gap of two-years the stationery shops are witnessing a rise in demand for school supplies as the State Government announced that the schools would be reopened on regular basis on June 27. "Traders dealing in stationery business are expecting good business and rise in demand as schools and colleges would resume on regular basis this year," said Arjundas Ahuja, Founder President of Vidarbha Pen and Stationers Association while speaking to The Hitavada.
Looking at the pick-up in business activity traders have planned in advance and decked-up their shops with the necessary supplies required by the students. The stationery supplies consists of hundreds of small items including various types of pens and pencils, erasers, scales, geometry boxes, slates, notebooks, refills, chalk, school bags, tiffins, baskets and office supplies like files, cardboard files, box files, staplers, pins, scissors, cardboards, punch machines among other things, he said.
"There are hundreds of items which a stationery shop has to keep on display. The range is huge and for one shop it is not possible to stock all the items," he pointed out.
Although the traders are expecting business to pick-up still they are worried over the issue of rising prices of stationery supplies. There has been a rise of 30 per to 50 per cent in the stationery products due to hike in raw material prices and supply constraints due to the Russia-Ukraine conflict, he said.
He said that traders suffered heavy losses during the past two years due to lockdowns and timing restrictions due to the spread of COVID-19. Many traders in the stationery business had to close their shops as they could not sustain the financial burden they had to undergo at that time. A large number of them searched for jobs or switched to other businesses.
"The situation was so bad that the Vidarbha Pen and Stationers Association had only 150 members remaining out of total 260 members. The members that left the association could not pay for the annual renewal fee of Rs 900," he said. "Traders are expecting better days going forward. As schools and colleges reopen the flow of customers is bound to increase. With everything getting normal traders hope that there will be no more lockdowns," Ahuja added.