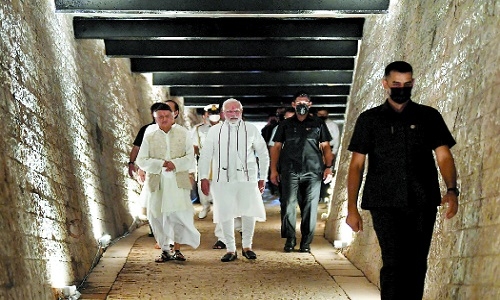 MUMBAI,
PRIME Minister Narendra Modi on Tuesday inaugurated an underground 'Gallery of Revolutionaries' museum dedicated to the luminaries of the freedom struggle, at the Raj Bhawan here.
The gallery has come up in the subterranean network of 13 pre-World War-I British era bunkers, discovered in the Raj Bhawan campus in August 2016 during the tenure of the then Governor C Vidyasagar Rao.
The gallery includes information on the freedom movement heroes, their role in the movement, sculptures, rare photographs, murals and details on tribal revolutionaries drawn by school-kids.
Prime Minister Narendra Modi inaugurated the swank new 'Jal Bhushan', the official residence-cum-office of the Maharashtra Governor, in the Raj Bhawan premises at Malabar Hill, here on Tuesday.
With a history of over 200 years, it traces its roots to the then Governor of Bombay, Mounstuart Elphinstone, who built a small bungalow called 'Pretty Cottage' at this location between 1820-1825 where the modern-day 'Jal Bhushan' now stands. Since the relocation of the Arabian Sea-facing Government House at Malabar Hill in 1885, it has served as the residence of the British Governors of the erstwhile Bombay State, then the Governor of Bombay post-Independence and then the Maharashtra Governor after the State's formation in 1960.
Since the old structure was found to be unsafe, it was decided to construct a new building for which President Ram Nath Kovind laid the foundation stone in August 2019, and the newly-built imposing building retains the salient heritage features of the earlier architecture.