Pawar's 'no' to becoming Oppn candidate, hectic parleys on ahead of Mamata's meet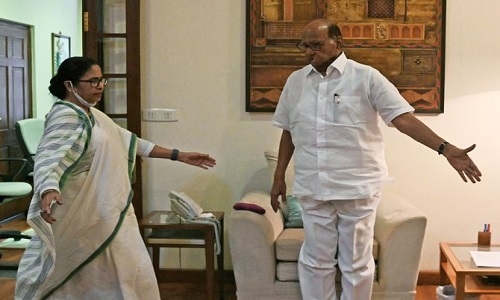 New Delhi,
Leaders of some major political parties held hectic parleys on Tuesday ahead of a meeting called by West Bengal Chief Minister Mamata Banerjee to forge a consensus for fielding a joint candidate against the NDA in the presidential election, a move that has exposed the fault lines within the Opposition.
Banerjee and leaders of two Left parties met NCP chief Sharad Pawar at his residence separately to try and convince him to be the common Opposition candidate for the top constitutional post.
The Maratha strongman, who has friends across the deeply divided political spectrum, however, turned down the proposal, sources in the opposition camp said.
The West Bengal CM is in the national capital for the meeting she has convened on Wednesday to explore the possibility of formulating a common strategy with other Opposition parties for the presidential poll where the
BJP-led NDA has an unmistakable edge given its strength in Parliament and State and UT Assemblies.
Banerjee's decision has, however, come in for sharp criticism by the Left, a TMC adversary in West Bengal.
Miffed at the TMC supremo Mamata Banerjee's 'unilateral' decision to call a meeting for discussion on a joint presidential nominee, the CPI(M) and the CPI on Tuesday said they will send their MPs to the opposition meet to be held here on June 15.
CPI(M) General Secretary Sitaram Yechury and CPI General Secretary D Raja said the top leadership will not attend the meeting called by the Trinamool Congress (TMC) chief.