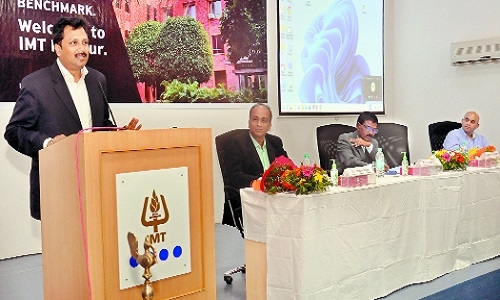 Business Bureau
MANAGING Director of Indira Container Terminal Pvt Ltd Subhrarabinda Birabar said, "Our country is going through dynamic changes and we need to be prepared to face these challenges. Anything happening in the world also affects our economy. In such complex circumstances, the country is looking upon the young generation with their knowledge to make a difference and change the world."
He was speaking as the chief guest at the 16 days inaugural programme of 17th batch of PGDM at Institute of Management Technology (IMT), Nagpur which started from June 15, 2022.
Birabar enlightening the students about multiple aspects of life and career and also focused on how these two years would open up newer avenues for personal and professional growth, and emphasised on the fact that people who are never afraid of trying new things will never fail in life.
The guest of honour for this inaugural programme Sadashiv Nayak, ex-CEO, Future Retail Limited, appreciated the fact that IMT Nagpur has been the oldest B-school of this region and asked the students to remain inquisitive and to continue reading, learning, and observing.
At the outset Dr P Janaki Ramudu, Dean and Acting Director, IMT Nagpur addressed the guests, parents and the students.
The event concluded with the vote of thanks from Vidhya Srinivas, Head, Placements and Corporate Connect.
Prof Sayan Banerjee conducted the programme.
Prof Sarabjit Singh, Prof Pawan Jain along with the entire faculty and staff of the institute attended the
programme.