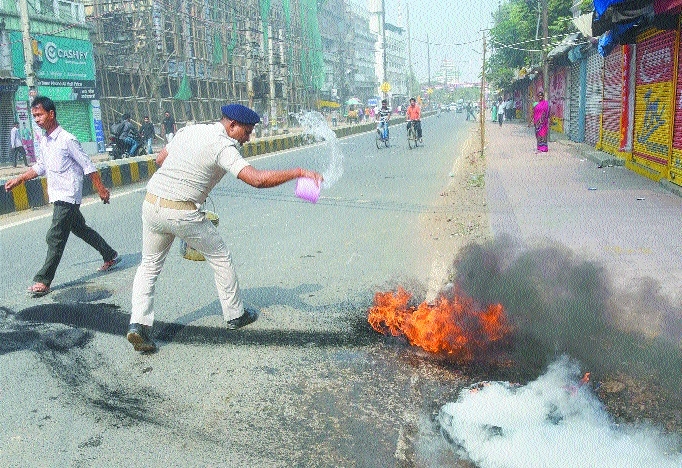 PATNA :
A RAILWAY station and a police vehicle were torched and several law enforcers injured in stone-pelting incidents on the fourth consecutive day of protests against Agnipath scheme on Saturday when a bandh was also called to press for the demand for rollback of the new scheme for recruitment in armed forces. In the capital city, bandh supporters were restrained by police from forcing shops to down their shutters, but they registered their protest by performing push-ups on the roads and scampering away after hurling stones at commercial establishments. On the outskirts, bandh supporters set fire to Taregana railway station in Masaurhi sub-division of Patna district and torched a jeep belonging to the GRP. They also exchanged gunshots with GRP personnel, engaged in heavy stone-pelting and beat up journalists covering the clash. "Police and RPF have been deployed in Masaurhi.
We have, so far, no information of anybody getting injured in the violence there," RPF DIG, East Central Railway (ECR) S Mayank told reporters. In Danapur sub-division, bandh supporters vandalised an ambulance as the driver alleged that a patient and attendants inside were also beaten up by the mob. State police chief, DGP S K Singhal, toured the Patna Junction and took stock of the security arrangements there. The ECR headquarters in Hajipur said that in view of the prevailing situation, 32 trains have been cancelled. Sonia Gandhi says Agnipath 'directionless', vows to work for its withdrawal: CONGRESS president Sonia Gandhi on Saturday termed "directionless" the Centre's 'Agnipath' scheme for recruitment in the armed forces, and said her party will work for its withdrawal.
She also appealed to the youths protesting against the scheme to adopt peaceful and non-violent means to fight for their demands. "It is unfortunate that the Government has announced a new armed forces' recruitment policy, which is completely directionless and it has done so while ignoring your voices," she said in a statement in Hindi, addressed to the youths. 369 trains cancelled due to Agnipath protests: THE Railways cancelled 369 trains on Saturday due to the agitation against the Centre's recently announced Agnipath scheme for recruitment of soldiers in the armed forces, officials said. These include 210 mail/express and 159 local passenger trains. The Railways has also partially cancelled two mail/express trains, thus the total number of trains affected during the day is 371, the officials said. MHA sanctions security cover for 10 Bihar BJP leaders: THE Union Home Ministry has accorded a VIP security cover of the CRPF to 10 Bihar BJP legislators in view of threats posed to them by those protesting against the recently launched Agnipath military recruitment scheme, officials said on Saturday.
Those provided the Y category cover comprise Bihar Deputy Chief Minister Renu Devi, state BJP president and Paschim Champaran MP Sanjay Jaiswal, Bisfi MLA Haribhushan Thakur, Darbhanga MLA Sanjay Saraogi and six others, including some MLCs. Raj Govt passes resolution seeking withdrawal of Agnipath scheme: THE Rajasthan Council of Ministers on Saturday passed a resolution demanding the withdrawal of the Centre's Agnipath scheme. The resolution was passed unanimously during a meeting held at Chief Minister Ashok Gehlot's residence here, a release said. Plea in SC for SIT probe into violent protests against 'Agnipath' scheme: A PIL has been filed in the Supreme Court seeking a direction to set up a Special Investigation Team (SIT) to probe the damage to public properties including that of railways and violent protests against the Centre's Agnipath scheme.