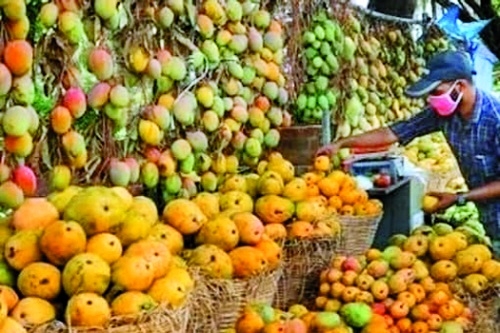 Business Bureau
The mango prices have witnessed a drop from its recent high. People,like mangoes during the summer months are glad that the mango prices have dropped as they will be saving on their monthy budgets.
One of the most sought after mango varieties - the Baiganpalli is now available at Rs 80 per kg in retail, as compared to the price of Rs 100 per kg about 15 days back.
At the begining of the month of May the Baiganpalli mango variety was being sold for Rs 140 per kg to Rs 150 per kg. The fall in mango prices can be attributed to the bulk supplies in the wholesale market," said Anand Dongre, President of Nagpur Fruit Dealers Association while speaking to The Hitavada.
According to him "Bulk supplies of the famous Baiganpalli mango variety is coming from Kurnool, Warangal and other districts of Andhra Pradesh. This has resulted in a steep fall in prices. On an average 60 to 70 trucks (truck with 6 tonne capacity) are unloading the orange colour fruit on Monday, Tuesday, Thursday and Saturday at the Kalamna market, he said.
In the wholesale market, Baiganpalli mango variety is being quoted at Rs 40 per kg to Rs 50 per kg. Earlier in the month of May, Baiganpalli was quoted at Rs 50 per kg to Rs 65 per kg and in April it was quoted at Rs 85 per kg to Rs 120 per kg, Dongre said.
The situation is same with other mango varities.
Other varieties of mango like Langda local is being quoted at Rs 40 per kg to Rs 50 per kg in the wholesale market. In retail it is available at Rs Rs 60 per kg to Rs 80 per kg.
The Gawrani Dassahari variety (local) is being quoted at Rs 40 per kg to Rs 50 per kg. The famous Lucknowi Dassahari will be arriving with a few days and will be available in the various city markets.
Apart from this, the prices of the most exported mango variety Alphanso has also fallen to Rs 450 per dozen to Rs 500 per dozen, as comapred a fortnight ago at Rs 500 per dozen to Rs 700 per dozen. About a month ago, Alphano was quoted at Rs 800 per dozen to Rs 1,000 per dozen, he added.
He said that the prices of the pulpy fruit have soared this summer season due to low production due to adverse weather conditions.