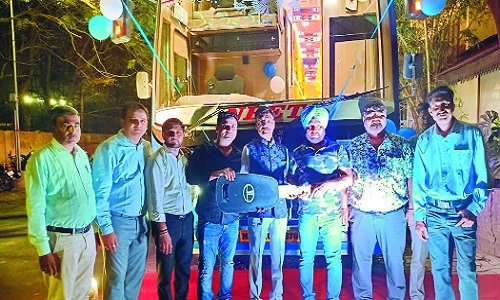 Business Bureau
Jaika Motors Pvt Ltd, the dealership of Tata Vehicles in central India, recently launched Tata LPO 1822/69 13.5 m chassis with 36+D 2X1 AC sleeper. Kartik Kale, Director of Jaika Motors Pvt. Ltd, and State Product Manager Passenger Vehicle (Commercial) Mayank Ranjan where among the prominent persons present at the launching ceremony held at Hotel Heritage.
The bus is having 6900 mm WB and overall length of the bus is 13.5 m long which gives full comfort to the passenger who travel on long routes like Pune, Mumbai, Nashik, Hydrabad and Banglore etc. The bus has Tata Cummins engine having power of 220 Hp.
The vehicle is having air suspension at rear and parabolic at front which gives extreme comfort to the passengers. The NVH level is low in its class due to new TATA Cummins engine.
The first lot of 2 vehicles of these buses was delivered to Mukesh Chaurasiya, Proprietor of Sanjay Travels in presence of Mayank Ranjan (State Product Manager) & Association President Mahindra Luley and Fleet Owners of Nagpur. Prashant Kumar, Service Head Nagpur gave the information on maintenance. The bus is having warranty of 4 year / 4 lakh km (whichever is earlier).
Girish Badhe, CEO, Pravin Khedkar, General Manager, Amol Talekar (TSM), Amit Bopche (SM) and others also attended the event. For details visit the showroom on Kamptee Road, Bhilgaon and Asoli Bhandara Road or call on mob:-98503 97947.