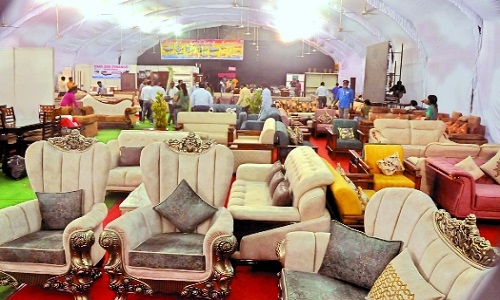 Business Bureau
Central India's most prestigious Vaastuvision Property and Furniture Exhibition will be held first time in Manish Nagar at Patel Celebrations, Besa Square, Nagpur from June 3 to 6, with a concurrent show of Furniture & Lifestyle Exhibition.
If you are planning to give a personal touch of glamour to a corner of your home, this will be your chance to find some super-cool stuff from across the country all under one roof at Vaastuvision Exhibition.
The expo will showcase all types of home and office furniture like sofa sets, dining table, bedroom sets, garden furniture, wrought iron furniture, ethnic furniture, space saving foldable furniture etc.
The home interior segment will have latest wallpaper designs, paintings and murals, brass artefacts, antiquities, Sagar's mosquito net and many other home decorative luxury items. The home furnishing segment will have immense range of products which caters to the contemporary and modern lifestyle of today.
The expo will offer a good opportunity to buy latest and attractive home decor items, all under one roof. The expo will have stalls from various States of India so one can have a look for designs from all over the country and select the best decorative items and furniture, all this makes Vaastuvision a very popular exhibition in central India.
The expo will be open from 11.30 am to 10 pm, so do not miss the chance to see and buy the various home decor items and refurnish your sweet home. Visit Vaastuvision with your family and enjoy it. For more information, contact Vijay Rathi (M.: 9373122021).