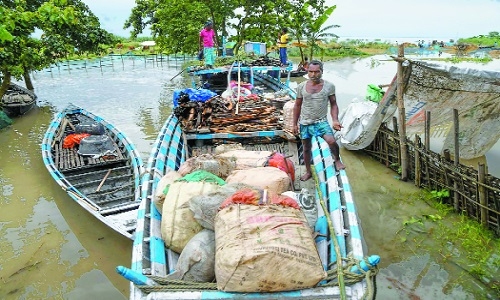 GUWAHATI,
WITH the flood situation in Assam remaining critical on Monday and affecting a population of nearly 43 lakh in 33 of its 35 districts, Chief Minister Himanta Biswa Sarma directed air dropping of food and other relief materials in areas where there is heavy inundation, officials said.
Sarma gave the direction after a review meeting with his Cabinet colleagues and senior district officers during the day.
The toll in the ongoing flood and landslides in the State increased to 73 on Monday. The dead included two policemen, including an officer in-charge of a police station in Nagaon district who had gone to help marooned people but were swept away.
Their bodies were fished out in the early hours of Monday, officials said.
Sarma, who held a virtual meeting with his Ministers, senior State Government officials and Dy Commissioners, directed that top priority must be given to relief and rescue operations and there should be no delay citing procedural rules. "Airdropping of relief materials must be done in areas where there is heavy flooding and Army, NDRF or SDRF boats have not been able to reach", he said. The Chief Minister said that for the next few days the district officials should not concern themselves with procedural rules but concentrate on providing relief to the affected people.
Monsoon covers entire Odisha: Met office: Monsoon covered the whole of Odisha on Monday, as heavy rain lashed several districts, the Met Department said. It also issued a 'yellow warning' for heavy rainfall in many districts over the next four days. "S-W monsoon has further advanced into remaining parts of Odisha today and, thus, it covered the entire State," R Biswas said in a statement.
IMD issues orange alert for Mumbai, Thane: THE India Meteorological Department on Monday issued an 'orange alert' to Mumbai and Thane for very heavy rainfall till June 21.
The orange-colour coded warning for heavy rains on June 20-21 was issued for the coastal districts of Ratnagiri and Sindhudurg, the IMD said.