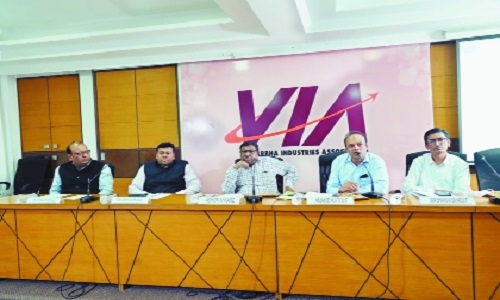 Business Bureau
Even though the deadline for a nationwide ban on single-use plastic is fast approaching, traders and manufacturers appear to be in a state of confusion.
In the technical seminar conducted here by the Vidarbha Plastic Industries Association (VPIA) on Monday, most of the participating traders and manufacturers were seen seeking clarification on the banned plastic products.
Some of them were demanding the authorities to extend the deadline while others were highlighting that they are sitting on huge stock of the banned material. One of the traders said that the ban would impact many units wherein the products are being used. Another dealer said there is a need to create more awareness on the matter.
However, the senior officers from the Maharashtra Pollution Control Board (MPCB), who were guiding the participants, categorically said that the ban on single-use plastic will come into effect from July 1.
The technical session, organised jointly with Vidarbha Industries Association (VIA), Butibori Manufacturers Association (BMA), MIDC Industries Association, Nagpur (MIA), Chamber of Small Industry Associations (COSIA), Vidarbha Economic Development Council (VED), Nag Vidarbha Chamber of Commerce (NVCC) and Laghu Udyog Bharti, saw participation of a large number of traders and manufacturers.
Girdhari Mantri, Executive Member of VIA, said most of the traders and manufacturers are in a state of confusion as they lack proper knowledge on the types of banned plastic items. Interestingly, on some technical points, the MPCB officers also said they need to study the list of banned items.
Single use plastic items having low utility and high littering potential will be banned from July 1.
The banned items include plastic sticks like earbuds with plastic sticks, plastic sticks for balloons, plastic flags, candy sticks, ice-cream sticks, polystyrene for decoration; cutlery items such as plates, cups, glasses, cutlery such as forks, spoons, knives, straw, trays; packing/wrapping films:- wrapping or packaging films around sweet boxes, invitation cards, and cigarette packets; other items like plastic or PVC banners less than 100 microns and stirrers.
It is important to note that 98 per cent of single use plastic is being used by MNCs, e-commerce companies and warehousing hubs and 400 to 500 units will face the brunt of the ban in Vidarbha region directly.
Ashok Kare, Regional Officer, MPCB-Nagpur; Hema Deshpande, Sub Regional Officer, Anand Katole, Sub Regional Officer, Uma Shankar Bahadule, Sub Regional officer, Rakesh Surana, President of VPIA, Dr Prashant Agrawal, Secretary - VPIA, Nishant Birla and others were also present.