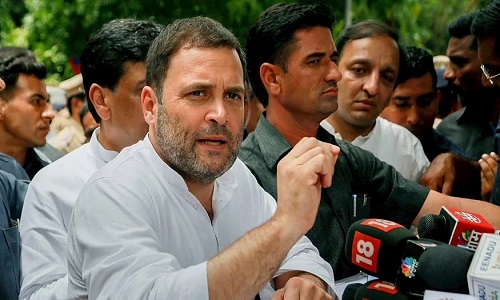 Staff Reporter
RAIPUR,
Chief Minister Bhupesh Baghel returned to Raipur from Delhi on Wednesday late evening after participating in Congress' Satyagrah in New Delhi.
Talking to mediapersons at Swami Vivekananda Airport Raipur, Chief Minister Baghel said that the Congress party had come forward to help National Herald newspaper, which was facing financial crisis and Rs 90 crore was paid through cheques. No money laundering happened in this case. The only motto of the BJP is to harass Rahul Gandhi and so he is being quizzed by Enforcement Directorate for five days, he added.
Replying to a query on Maharashtra's current political situation, Baghel said that the BJP could not tolerate that the opposition parties could run governments in the states much better. So the BJP made efforts to destablise the opposition party's government. The Shiv Sena MLAs were taken to Surat, Gujarat and later they were shifted to Guwahati, Assam. The Shiv Sena MLAs were forcefully taken to Assam and it indicates that the BJP was involved in the whole episode to destabilize Maharashtra government. The democracy is being crushed in Maharashtra, he added.
Replying to a query on BJP State President Vishnu Deo Sai's allegations over phone tapping, Baghel said that Vishnu Deo Sai should ask this question to the BJP government at the Centre. The Central government itself is indulged in phone tapping. Phones were tapped during previous Dr Raman Singh led government in Chhattisgarh, he added. Baghel claimed that Chhattisgarh Governor
Anusuiya Uikey was in race for the presidential candidate but earlier, Anusuiya Uikey was associated with the Congress party so she was denied ticket by the BJP for this post. Baghel said that the Congress party would stage a protest against Angeepath scheme in all assembly constituencies of the state on June 27. India is the country of youth and farmers and so the Central government will have to rollback the Agneepath scheme, he added. The Chief Minister added that he would participate in the protest in Patan assembly constituency