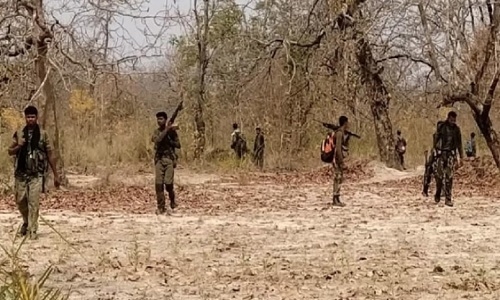 Our Correspondent
NUAPADA/
KHARIAR ROAD,
THREE troopers belonging to 19th battalion of Central Reserve Police Force (CRPF) attained martyrdom and some others are reported to have sustained injuries in a Naxal ambush on a forested patch under Patadhara Reserve Forest of Boden Block in Nuapada District on Tuesday evening.
The incident took place when a squad of the 19th battalion of CRPF was on its way from one camp to another as a part of road opening duty.
"The security personnel were on their way from one camp to another when a group of armed ultras opened indiscriminate fire upon them leaving three troopers martyred and some others injured", informed the police sources, adding that the martyred troopers have been identified as ASI Sishupal Singh of Aligarh in Uttar Pradesh, ASI Siblal of Mahendragarh in Haryana and Constable Dharmendra Kumar Singh of district Rohtas in Haryana.
As per sources, earlier ultras had warned against the newly set up CRPF camp at Patadhara by posting banners and posters in the area. The incident occurred two km from the new camp. It is suspected that the Maoists had prior information regarding the movement of the forces. Combing operations have been intensified and more teams of Special Operations Group (SOG) and CRPF are moving to the site. The Odisha Government has announced a ex-gratia of 20 lakh to each martyr's family. The losses inflicted to red rebels are yet to be ascertained.