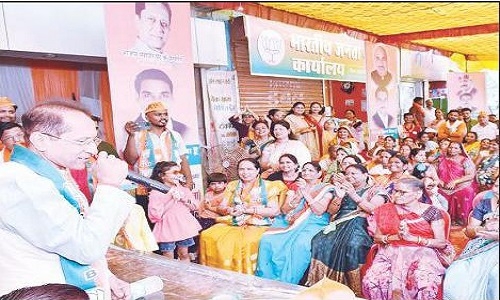 Staff Reporter
Bharatiya Janata Party Mayoral candidate, Dr Jitendra Jamdar, along with party leaders and workers, conducted election campaigning in a number of areas of the city and sought people's support. He also inaugurated party's election office in Diwan Aadhar Singh ward, Nirmalchand Jain Ward, Maharaja Agrasen Ward, Banarsidas Bhanot Ward, Kasturba Gandhi Ward and Veer Savarkar Ward.
Speaking on the occasion Dr Jamdar said every worker of BJP is determined for development and it will be their collective effort that all wards of the city should be properly developed and the city should move towards becoming a metropolitan.
Dr. Jamdar also interacted with the eminent people of Lakhera community and appealed them to vote in his favor and party candidates who are in fray for the post of Corporator. He said when there is a BJP government in the center and the state, then there must be BJP government with full majority in the Jabalpur Municipal Corporation so that the development process would continue in same manner.
Dr Jamdar met with senior office bearers of Chikitsa Prakoshta of BJP and also participated in the welcome program organized at Chhota Fuhara. Senior leaders present during campaigning were MLA Ashok Rohani, former MLA Sharad Jain, Harendrajit Singh, former Mayor Prabhat Sahu and other.