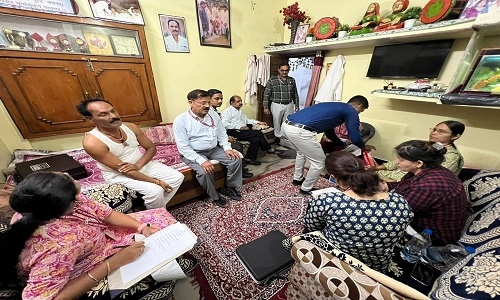 Staff Reporter
A joint team of Economic Offences Wing (EOW) Jabalpur and Sagar registered a case of disproportionate assets after raiding the house of Director of Fisheries Co-operative Society in Tikamgarh early in the morning, on Wednesday. The investigation of the EOW has revealed the purchase of vehicle and other properties including immovable property worth more than Rs 1 crore by the Director.
Sub-Inspector, Unit Sagar Chandrajit Yadav conducted the investigation at the residence of Director, Meena Raikwar on the complaints of disproportionate assets received by the EOW. During the investigation it was found that Meena Raikwar is the Director of Fisheries Co-operative Society, Mahendra Sagar Talab Tikamgarh for almost 20 years. During the period the dividend is distributed equally among the members of the society.
Income of Rs 12.50 lakh was found to be acquired by her or family members during this period, whereas during the same period, she has spent about Rs 1.95 crore on purchase of immovable property and vehicles. Therefore, a case was registered and taken for investigation on the basis of evidences of disproportionate income.
Inspector Swarnjit Singh Dhami, EOW Jabalpur branch is doing investigation of the case. The joint team of Sagar and Jabalpur after taking due permission of the Court started the search at the residence of the accused to collect evidence regarding the acquired property including investment in bank insurance, purchase of the immovable property, agricultural land, plots, jewelery, vehicles, bank insurance etc. Amongst the officials conducted the investigation were Deputy Superintendent of Police A V Singh, Inspector Uma Naval Arya, Inspector Prerna Pandey, Inspector Shasikala Maskule, Sub-Inspector Chandra Jeet Yadav, Sub-Inspector Govind Yadav, Inspector Kirti Shukla, Sub-Inspector Sonal Pandey, Sub-Inspector Vishakha Tiwari along with Sub-Inspector Roshni Soni.